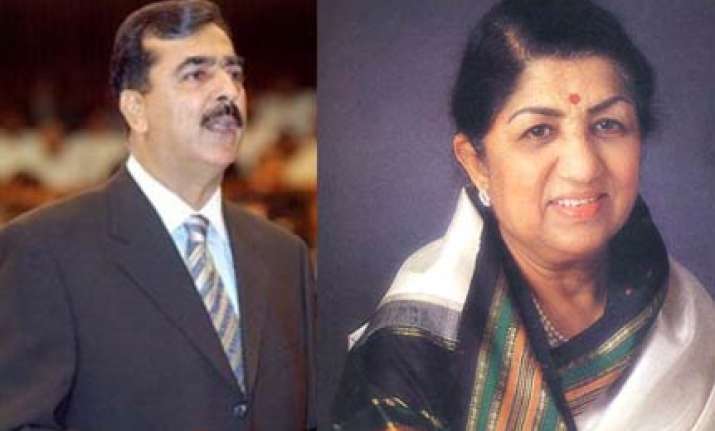 Bharat Ratna Lata Mangeshkar has been extended an invitation to visit Pakistan as a state guest by Prime Minister Yousuf Raza Gilani, reports Mumbai Mirror.
It is an honour very few are truly worthy of. Lata has been invited to fly to Pakistan to meet Prime Minister Yousuf Raza Gilani. If things go as planned, she would soon be sitting, in all her glory, with the crème-de-la-crème of the Pakistani PM's office.
As it turns out, a very persuasive invitation for Lataji to visit Pakistan has come from none other than the Pakistani Minister Yousuf Raza Gilani himself.
During a dinner meeting with singer Adnan Sami in Islamabad last week, Gilani raised the question of Lataji's long-pending visit. "She owes it to her fans in Pakistan, which includes me," the Pakistani PM apparently told Adnan.
Gilani then suggested that Adnan personally bring her to Pakistan as the country's state guest. Obviously, if Lataji visits Pakistan soon, cultural ties between the two countries would go to another level.
Confirming the invitation from Pakistan's PM, Adnan Sami says, "Yes, Gilani saab has invited Lataji through me. He is a huge fan of hers. So is Nawaz Sharif for that matter."
As per Adnan's account, during his dinner last week in Islamabad, Gilani could not stop singing Lataji's evergreen melodies. It was after that session that the PM extended the invitation for Lataji to Adnan.
Says Adnan, "Lataji has been invited as a state guest to Pakistan. I will personally escort her and will make sure she is looked after properly like a Bharat Ratna should be. Lataji is a national treasure not only in India but also in Pakistan. Just the thought of her visit has filled Pakistani people with a feeling of elation. She must go there. I will make sure it happens."
While Lataji is yet to take a call on this invitation, the long-standing desire of the Pakistanis to have her amongst them for just one visit, is now on its way to fulfillment.
Nawaz Sharif was a self-proclaimed fan of Mukesh, the revelation of which brought about Vajpayee's Lahore bus trip, which ended at Kargil. Late Gen Zia ul Haq was a fan of Bollywood actor and BJP MP Shatrughan Sinha, which the latter reciprocated in ample measure by bringing about people-to-people links with the neighbouring country.
 India TV invites comments from its readers to react whether Lata Mangeshkar should accept Gilani's invitation.