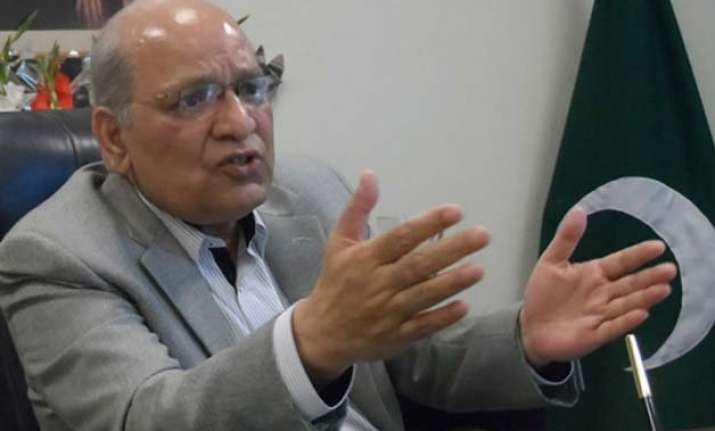 Islamabad: A senior minister in Pakistan has resigned from his post after a controversy over his claim that former ISI chief Zaheerul Islam plotted to overthrow Nawaz Sharif Government by encouraging violent demonstrations here last year.
Environment Minister Mushahidullah Khan has sent his resignation to Prime Minister Nawaz Sharif, Information Minister Pervaiz Rashid said.
Khan in an interview with BBC Urdu service on Friday claimed that the government had tapped a conversation of the former ISI chief which proved that he was part of a conspiracy to bring down the government during street demonstrations in Islamabad last year.
Opposition politician Imran Khan and fiery cleric Tahir ul-Qadri had held prolonged street demonstrations last year and vowed to bring down the government over allegations of election-rigging and corruption.
In the interview on Pakistan's Independence Day, Mushahidullah Khan alleged that a civilian intelligence agency had recorded Islam instructing protesters to cause chaos.
The minister sent his resignation to the Prime Minister after the government distanced itself from his statement and media heavily criticised him for "maligning" the army.
According to official sources, the resignation has not been accepted so far as Sharif wanted the minister to first explain his reported interview and statements.
According to the interview of the minister, Sharif in a meeting with army chief General Raheel Sharif on August 28 last year shared a tape with him about allege plot, who called Islam in the meeting to confirm it.
"Islam confirmed that it was his conversation and he was asked to leave the meeting," Khan said.
He claimed that the ex-ISI chief wanted to create a clash between the army chief and the Prime Minister with the hope that the latter would sack the former, and army would have to intervene like 1999 when Sharif had fired Pervez Musharraf but army retaliated and overthrew the government.
The minister also claimed that Islam wanted to grab power as he thought that once army chief was sacked, he would be in a position to act and get control of the government.
The interview released on August 14 (when Pakistan celebrates Independence day) created a storm and the government denied having recorded any conversation of the ISI chief or playing it before General Raheel Sharif.
Information minister Pervaiz Rashid said that government was not aware of any tape. He also rejected that ex-ISI chief wanted to grab power.
"I was with the Prime Minister through that period and nothing like this (as discussed by Mushahidullah Khan) happened," he said.
Army spokesman Major General Asim Saleem Bajwa also denied that any such incident happened.
"The story about any tape recording as being discussed in media is totally baseless and farthest from truth. Such rumours are irresponsible and unprofessional," he said in a tweet.