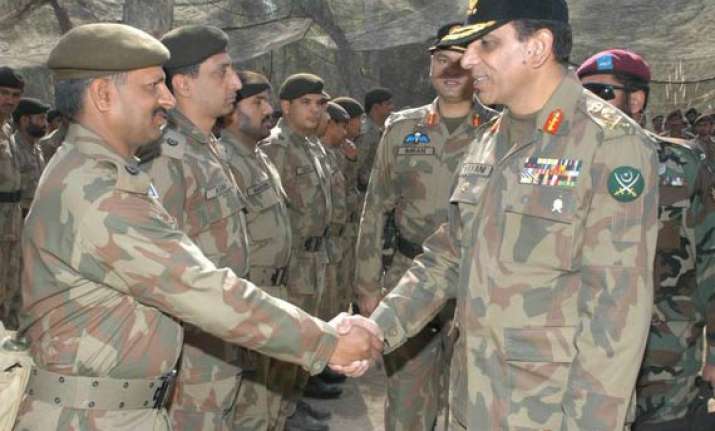 Islamabad, Jun 21:  A brigadier serving at Pakistani army's General Headquarters in Rawalpindi has been taken into custody for alleged links with a banned militant group, the chief military spokesman said today.

Brigadier Ali Khan, who was detained recently, is being questioned by army authorities, spokesman Maj Gen Athar Abbas told the media.

Khan's detention was first reported by BBC Urdu, which said the officer had been serving in the Regulation Directorate of the General Headquarters for two years and went missing one-and-a-half months ago.

Abbas said the investigation into Khan's links with an outlawed militant group was underway.  He avoided giving details, saying it could affect the probe.

Khan allegedly had links with the banned Hizb-ut-Tehrir and was reportedly involved in a plot to attack the Shamsi airbase in Balochistan, sources told PTI.  Reports have said that US drones operate from Shamsi airbase, but Pakistani authorities have denied them. 
BBC quoted an unnamed officer as saying that army chief Gen Ashfaq Parvez Kayani had personally ordered Khan's arrest.  Sources close to Khan's family told BBC Urdu that he had not returned home on May 6.

The family was then told that Khan had been stopped for questioning and "would soon reach home." A senior army officer told BBC on condition of anonymity that no formal chargesheet had been framed against Khan but the army's Special Investigation Branch (SIB) is conducting an inquiry into his links with Islamic extremists.  The SIB usually conducts investigations into serious and sensitive matters within the army.

Khan's family was reluctant to talk to the media and also unwilling to approach the courts.

The family was hopeful that Khan would be freed due to his three decades of service in the army, BBC reported.  The brigadier's father was a junior commissioned officer in the Pakistan army and his younger brother is a Colonel working with a key intelligence agency.  Khan's son and son-in-law are Captains in the army.

There have been several reports in recent years about efforts by the Hizb-ut-Tehrir to infiltrate Pakistan's armed forces. PTI