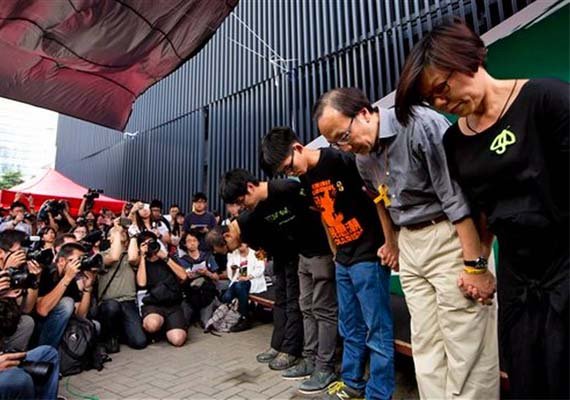 Hong Kong: The organisers of the pro-democracy protests in Hong Kong Sunday unexpectedly cancelled the popular vote they had scheduled to decide the future of the movement, citing internal differences.
A few hours before the Sunday and Monday voting was scheduled to begin, the Occupy Central movement, one of the organisers of the protest, announced its cancellation.
"We admit that we did not discuss things enough with the people before deciding on the vote, for which we apologise," said the movement in a statement without announcing a new date for the balloting.
Organisers asked protest supporters to visit the areas where pro-democracy demonstrators have established themselves over the past month -- Admiralty, Mong Kok and other neighbourhoods in the former British colony -- to continue discussing how to proceed.
The Hong Kong government has offered in exchange for an end to the protests to create a mechanism for talks with popular participation, so that political reforms after the 2017 elections may be discussed.
The protest movement, however, basically considers the government offers to be insufficient, demanding universal suffrage and independent candidates in the upcoming local elections, in contrast to the Chinese communist regime's decision to pre-approve only a limited number of candidates.