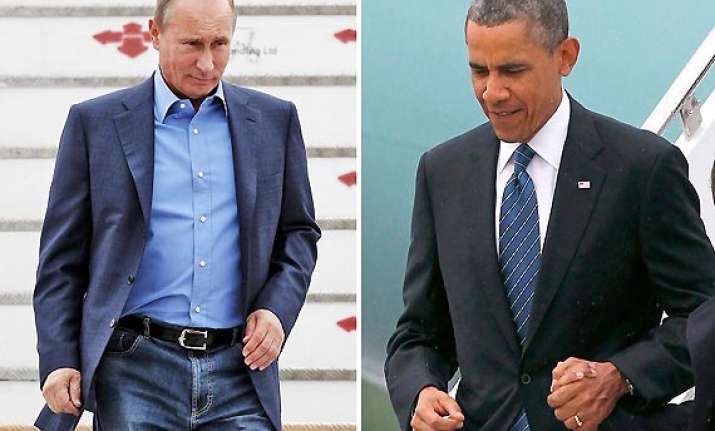 Washington, Aug 7: Miffed over Moscow's decision to grant asylum to classified leaker Edward Snowden, President Barack Obama has cancelled talks next month with Russian President Vladimir Putin ahead of the G-20 summit in St. Petersburg.
A White House statement on Wednesday announcing the cancellation of Obama's Moscow visit cited "Russia's disappointing decision to grant Edward Snowden temporary asylum" as a factor.
Russia last week granted asylum to Snowden, a former CIA contractor who had been holed up for weeks in the international transit zone of Moscow's airport since fleeing the US for Hong Kong and then Russia after leaking details of several top-secret US and British government mass surveillance programmes.
The president looked forward to the G-20 summit on Sep 5-6, the White House said, and a separate statement announced Obama president would visit Sweden before the summit instead of going to Moscow.
"Following a careful review begun in July, we have reached the conclusion that there is not enough recent progress in our bilateral agenda with Russia to hold a US-Russia Summit in early September," a White House statement said.
"Given our lack of progress on issues such as missile defence and arms control, trade and commercial relations, global security issues, and human rights and civil society in the last twelve months, we have informed the Russian government that we believe it would be more constructive to postpone the summit until we have more results from our shared agenda," it added.
Obama confirmed Tuesday night that he still plans to attend the G-20 summit early September, despite calls from some lawmakers for the US to boycott the gathering.
However, the White House also has said it was reconsidering the "utility" of separate talks with Putin in Moscow that were to take place before the G-20 gathering.
On NBC's "Tonight Show" Tuesday night, Obama said he was disappointed Russia had granted asylum to the former government contractor.
Russia's leaders have a proclivity for slipping into a Cold War mindset, Obama said, adding that it is essential that cooperation between the two nations continues.