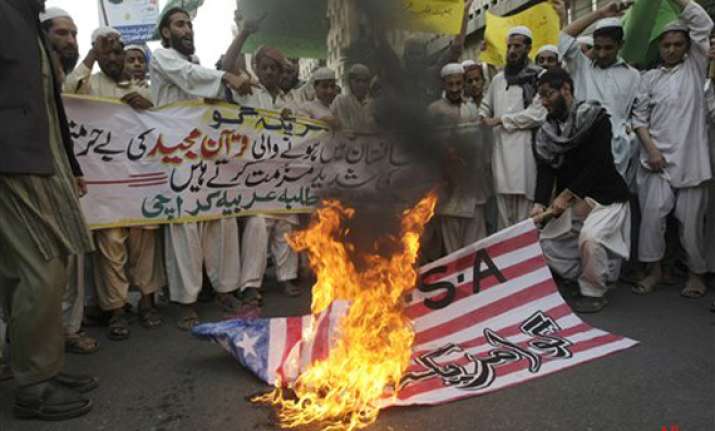 Kabul, Feb 24 ; US President Barack Obama was on Thursday forced to apologise over the burning of copies of holy Quran at a US airbase in Afghanistan, where three days of protests have killed 14 people, including two American soldiers.

Violent anti-US protests have seen furious Afghans attack French, Norwegian and US bases, shouting "death to America" after the Taliban exhorted their countrymen to kill foreign troops to avenge the incident at a US-run base.

Afghanistan is a deeply religious country where slights against Islam have frequently provoked violent protests, and many Afghans are incensed at the discovery of charred copies of holy Quran at Bagram airbase north of Kabul.

In a letter of apology to Afghan President Hamid Karzai, Obama expressed "deep regret" over the incident that he said was unintentional, and pledged that those responsible would be held accountable, Kabul said.

"I extend to you and the Afghan people my sincere apologies," Obama wrote in the letter presented to Karzai by US ambassador Ryan Crocker.

"The error was inadvertent; I assure you that we will take the appropriate steps to avoid any recurrence, to include holding accountable those responsible."

White House spokesman Jay Carney said the apology, which came in a broader three-page letter to Karzai, was "wholly appropriate given the sensitivities" over the issue. "His primary concern as commander in chief is the safety of American men and women in Afghanistan, of our military and civilian personnel there," Carney said.

Two Americans were shot dead when an Afghan soldier turned his weapon on them at their base in Khogyani in eastern Nangarhar province, district governor Mohammad Hassan said.

Nato's US-led International Security Assistance Force said two of its service members were killed in the east but did not give their nationalities.

At least three Afghans were killed by gunfire at demonstrations in the south and east of the country, bringing the total death toll among protesters to 12 since Wednesday.

The US embassy warned of possibly violent protests on Friday in which Westerners could be targeted.

The violence came after the Taliban urged Afghans to kill foreign troops to avenge the burning of the holy Quran, although the militants stopped short of cutting off tentative peace contacts with US officials in Qatar.

In Mihtarlam, the capital of Laghman province, thousands besieged the base of a US-led military-civilian provincial reconstruction team, throwing rocks and climbing up the outer walls, police said.

About 2,000 protesters tried to march on the French base in Kapisa, east of Kabul, but were pushed back.