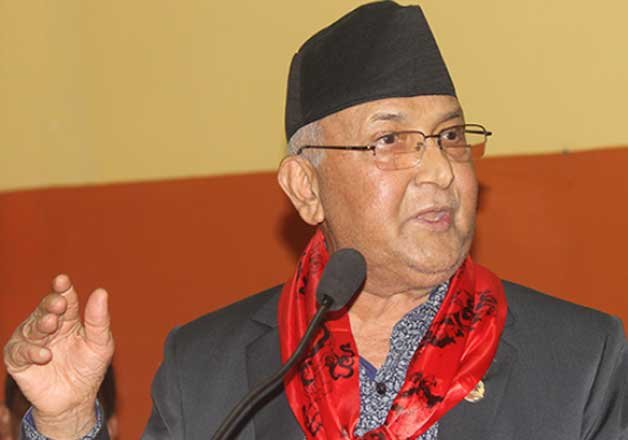 Kathmandu: K.P. Oli, Prime Minister of Nepal, on the eve of his six-day visit to the Indian soil said that his country is not playing the "China Card" against India.
Attending a press conference ahead of his face-mending India visit, Oli declined the allegations that accused him of playing the "China Card" against his neighbouring country in the wake of the border blockade due to protests by Madhesis.
The prolonged strike by the Madhesis had caused severe shortage of essential goods, including petrol and cooking gas, in the country.
"It is not true that Nepal has played any card against India," he told reporters at his office.
"I won't play a card against any country," Prime Minister Oli said, adding in a lighter vein that, "I don't know how to play a card."
"There is no question of playing a card for one against the other. We want to develop friendly relations with both our great neighbours on the basis of mutual respect and benefit," 63-year-old Oli said.
Earlier some reports had said that Oli could visit China before India due to hiccups in Indo-Nepal ties over the Madhesi issue. Amid strain in Indo-Nepal ties, China was seen by analysts as getting closer to Nepal especially by providing essential goods to the crisis-hit nation.
Oli has also said that he will visit China within a month after his India trip as part of his government's policy to enhance cooperation with immediate neighbours.
"Our country will definitely benefit from my visit to India beginning from Friday and we won't lose from the visit," the Prime Minister said today.
During Oli's visit, the two countries are expected to sign a number of pacts, mostly related to the areas on which agreement has been reached in the past, sources close to the premier said.
Two MoUs -- one on the USD 1 billion line of credit that India has already committed to Nepal during Prime Minister Narendra Modi's visit and another on USD 1 billion that India has pledged during External Affairs Minister Sushma Swaraj's trip here for the country's post-earthquake reconstruction will be signed during Oli's visit, the sources said.
Oli, during the press interaction, said, "To gain friendship is also a gain and we will get much more than that (from the visit)."
He said he has no specific agenda for the talks as the visit is taking place in very complex and special circumstances.
"The main focus of the visit will be to create favourable situation and to build trust," Oli asserted.
(With PTI inputs)