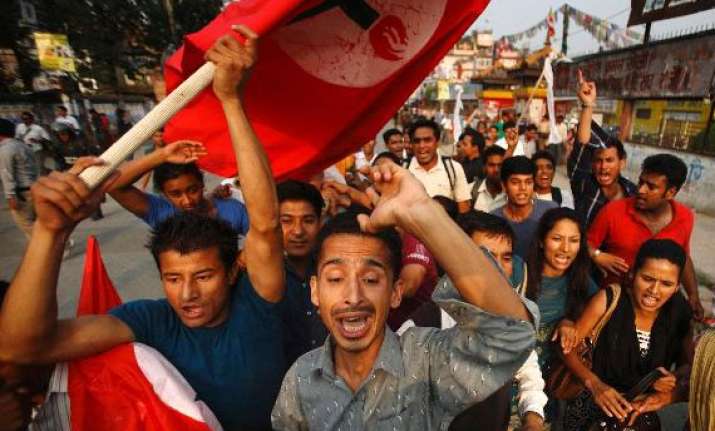 Kathmandu, Jun 2: In a bid to put pressure on the government here, Nepali Congress today said it will organise a protest rally along with other non-Maoist parties on June 8 against the decision to dissolve the Parliament and announcement of fresh election for Constituent Assembly.  
Accusing Maoists of trying to "capture power at any cost" and "impose totalitarian rule in the country," party vice-president Ramchandra Poudyal said there will be protests across the country with an aim to dislodge Prime Minister Baburam Bhattarai-led government.
"After Maoist Prime Minister Prachanda failed to capture state authority by taking control over army in 2009, another Maoist Prime Minster Bhattarai is trying to capture power by dissolving representative body of the people, the Constituent Assembly," he said.
Claiming that the constitution drafting process was obstructed mainly due to the anti-democratic attitude of the Maoists, Poudyal also accused Madhesi parties of not being serious over the issue.
"Drafting the constitution was not the genuine agenda of the Maoists as they were making just a publicity stunt about the matter," he said. He also accused Maoists of proposing suggestions that would undermine judicial system, making direct election to the president a mockery and going against the internationally agreed democratic norms.
"The Maoists were trying to add provision that allowed party to call back the directly-elected president, and to include such clauses that would restrict certain political parties to participate in the democratic process," he alleged.  Poudyal also refuted the Maoists' allegation that the Nepali Congress was against incorporating federal structure in the constitution.
"Our main emphasis was to adopt multi-ethnic, multi-cultural and multi-lingual identity in federating the states against the single-ethnic identity as proposed by the Maoists," he said.
Meanwhile terming the move an "unconstitutional" move aimed at "capturing state authority," party president Sushil Koirala today demanded formation of "national government by forging consensus among all the political parties".  
He noted that there was no other way out than "consensus, collaboration and unity among the parties" for an end to current constitutional crisis.