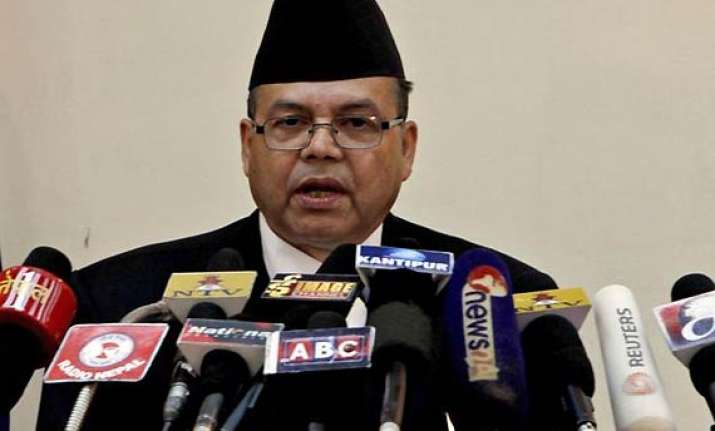 Kathmandu, Aug 14: In a dramatic turn of events, Nepal Prime Minister Jhalanath Khanal tendered his resignation to President Ram Baran Yadav on Sunday evening, a day earlier than expected. Khanal's decision came after the central committee of his party, Communist Party of Nepal (Unified Marxist Leninist) approved his earlier announcement to quit office.

With Khanal's resignation and uncertainty over the next government, Nepal has again plunged into a political crisis with no progress on completing the peace process and drafting a new constitution.

The PM had announced on August 1 that he would leave office on August 13 if there was no significant progress in the stalled peace process. He reiterated his decision in writing in parliament on August 10.

Though the deadline expired on Saturday midnight, he remained in office as marathon meetings continued to take the peace process forward and forge a consensus on his successor.

Following advice of coalition partners, Khanal decided to wait till Monday and tender his resignation after addressing the Parliament.

But with the CPN (UML) approving his announcement, he decided to submit his papers on Sunday itself.

"As per the CPN (UML) central committee decision, the PM decided to resign today. He will address the parliament on Monday," Khanal's media advisor Surya Thapa told HT.

As both Khanal and his predecessor Madhav Kumar Nepal belonged to CPN (UML), Maoists and Nepali Congress are now engaged in a race to head the next government.

The Maoists have already named party vice-chairman Baburam Bhattarai as candidate for the PM's post. But there's still uncertainty in Nepali Congress camp on who would lead the next government.

Parliamentary party leader Ram Chandra Poudel and former prime minister Sher Bahadur Deuba are pressuring party president Sushil Koirala to forward their names as Khanal's successor.

Earlier series of meetings among parties on addressing contentious issues of the peace process related to integration and rehabilitation of former Maoist combatants and shape of the next government failed to yield any result.

Jhalanath Kahal had got elected to the PM's post on February 3 with Maoist support after signing a secret deal with Maoist chief Pushpa Kamal Dahal 'Prachanda' on sharing power.

But fate of the six-month old government was sealed on May 28 when the three major parties, UCPN (M), NC and CPN (UML) inked a five-point deal to extend the Contituent Assembly's tenure till August 31.

Besides agreeing to complete the peace process and draft the new constitution by that deadline, the deal had also agreed on formation of a national consensus government to replace Khanal and his team.