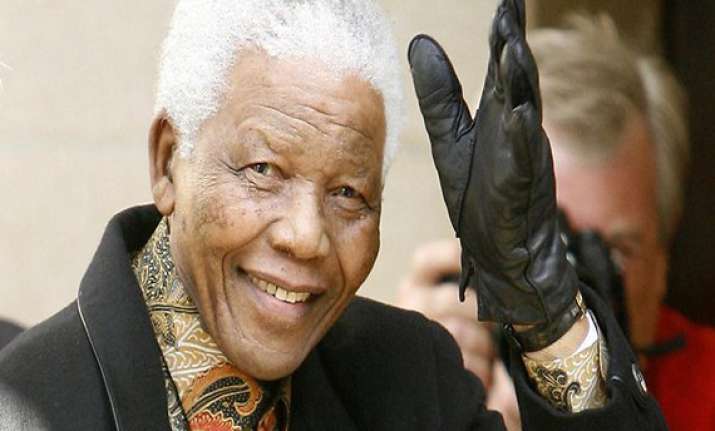 Johannesburg, Dec 16:  Former South African president Nelson Mandela has undergone a successful surgery to remove gall stones, the presidency said on Saturday.
On Saturday morning, "the former president underwent a procedure via endoscopy to have the gall stones removed," the presidency said in a statement, reported Xinhua.
"The procedure was successful and Mandela is recovering."
"The former president was hospitalized on Dec 8, 2012 for a series of tests to be carried out by the doctors. The tests revealed that there was a recurrence of the lung infection and that Mandela had developed gall stones."
The presidency said earlier that Mandela had developed "a recurrence of a previous lung infection, for which Mandela is receiving appropriate treatment and he is responding to the treatment."
In Saturday's statement, the Presidency said "the medical team decided to attend to the lung infection before determining when to attend to the gallstones".
"President Jacob Zuma, on behalf of all South Africans, wishes Mandela speedy recovery," the statement said.
The Presidency once again appealed for privacy for Mandela and his family.
Mandela's hospital stay this time is his longest since 2001, when he underwent seven weeks of radiotherapy after being diagnosed with prostate cancer.
In January 2011, Mandela was admitted to a Johannesburg hospital for an acute respiratory infection for a short period. In February this year, he spent a night in a hospital for a minor diagnostic surgery to determine the cause of an abdominal complain.
The health of Mandela, 94, has been a focus of concern. Since he was hospitalized this time, the public and the media have been anxiously awaiting word on his conditions.
Despite heavy rain, a large contingent of journalists were camping outside the Mediclinic Heart Hospital in Pretoria, where Mandela was believed to be staying.
But the government has never disclosed where Mandela was receiving treatment so as to "ensure privacy and also to allow doctors space to do their work of caring for Mandela without interruptions or undue pressure".
Mandela, who was imprisoned for 27 years during apartheid, was elected the country's first black president in 1994.