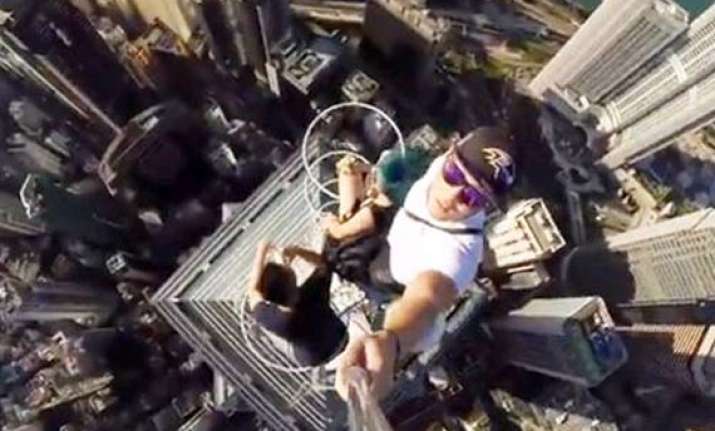 New Delhi: Three teenagers from Hong Kong take the selfie craze to a new level as they pose for the camera on top of one of Hong Kong's tallest buildings.
Daniel Lau, the videographer, used a selfie stick tool and a wide-angle lens on his camera to produce the extreme video.
His companions, fellow extreme photographers Anrew Tso and Airin S., ate bananas while perched atop the building's antenna. Lau's video, posted by YouTube user Frank Wu, now has over 515,000 views.
The video was shot on top of The Centre skyscraper which stands 346 metres (1,135 feet) tall and is Hong Kong's fifth-tallest building.
The footage is dizzying to watch, not least because Lau turns the camera round several times, offering a stomach-churning view of the streets below him, before lowering the lens and turning his attention to his mobile phone.
The term "selfie" dates back to 2002, when it was first used in an Australian online forum, but the craze for taking them has mushroomed over the past 18 months, so much so that Oxford Dictionaries picked "selfie" as the 2013 word of the year.