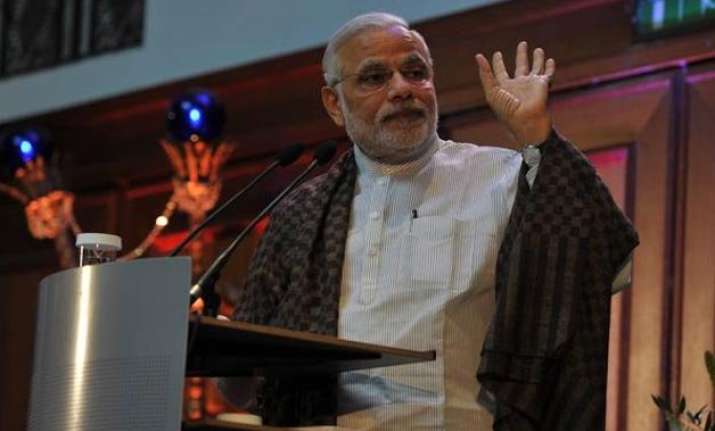 Berlin: Linking India's economic progress to national "self-respect", Prime Minister Narendra Modi yesterday said the country has huge potential of becoming a manufacturing hub and asked the Indian professionals in Germany to act as a "bridge" between the two countries.
He said India has the potential to achieve tremendous growth and it should become a "giver" than being a "taker".
"There is a big demand of time that India becomes a manufacturing hub. If we lose this opportunity, we will regret later," Modi told NRIs while addressing a reception hosted in his honour here.
He noted Germany's excellence in manufacturing and said there was a need for partnership between the two countries to make India a hub of manufacturing.
"There is a huge potential for India to become a manufacturing hub," he said.
In this context, Modi said India has low-cost skilled manpower, the demographic dividend and there should be 'zero-defect' in the products and even in packaging as "credibility" matters the most.
He linked India's economic progress to national "self-respect" and wondered why items cannot be manufactured in India itself rather than being imported.
While talking about imports, he said in a lighter vein, "even for crying, Indians needs foreign help," referring to teargas canisters got from abroad.
"I have to change this mindset that we ourselves can't do. For me, growth is not only economic goal but a matter of self-respect," Modi said.
Addressing the Indian professionals working here, the Prime Minister said they should show "enthusiasm" and "become a bridge between India and Germany to help realise our objective of making India a manufacturing hub...It will be a win-win situation for both the countries."
He promised to provide a conducive environment for it while noting that the government has already opened up sectors like defence and railways to FDI. Modi contended that India had huge talent in science centuries ago but it could not take advantage of this because of being colonised by the British.
"The knowledge was stolen or suppressed and we lagged behind the world," he added.
Underlining the need for a "balanced growth", he said his government was laying equal emphasis on agriculture, manufacturing and services sectors.
Hailing the potential among Indian youth, he particularly referred to the IT sector and said Indians surprised the whole world through it.
He noted that 60-70 per cent of computer software experts in the Silicon Valley are Indians but despite that "Google was not born in India".
Such Indian software wizards should show their magic in their own country, the Prime Minister said.
In candid remarks, Modi said, "We are Hercules in our country but when we go out we come to realise many things and we are inspired to compete and achieve greater heights."