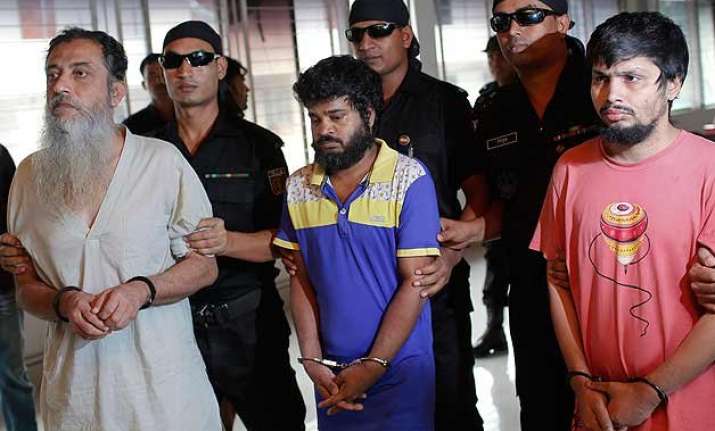 Dhaka:  Bangladesh police have arrested three suspected al Qaeda-linked militants, including a British national who masterminded the recent brutal murders of two prominent secular bloggers in the country that sparked global outrage.
"Yes, we have arrested the three in connection with the murders of Avijit Roy and Ananta Bijoy Das...We picked them up from Nilkhet and Dhanmondi areas (in the capital)," elite anti-crime Rapid Action Battalion (RAB) spokesman Commander Mufti Mahmud Khan told PTI.
Major Maksudul Alam, deputy director for RAB's legal and media wing, said one of the suspects, Tawhidur Rahman, was the mastermind of the two murders.
Rahman is a Bangladesh-born British national who lived in London for more than two decades until 2011.
The three are linked to an Islamic group calledAnsarullah Bangla Team (ABT), which was banned in May over a series of killings of bloggers.
Roy, 45, a Bangladesh-born US citizen, was hacked to death on a street near an annual book fair venue in the capital in February this year while 33-year-old Das was killed in northeastern Sylhet in May.
They were known for their tough stance against religion-based politics and were linked to a platform which waged a massive campaign for the capital punishment for war criminals who carried out atrocities siding with the Pakistani troops in the 1971 liberation war.
Bangladesh police last week arrested two suspects in connection with the murder of another secular blogger Niloy Neel, the fourth blogger to be killed this year.  
Ansarullah Bangla Team, also known as Ansar-Al-Islam, has claimed responsibility for most of the bloggers murders.  The group identifies itself as Bangladesh chapter of al-Qaeda in the Indian sub-continent.
The US as well as other nations had condemned the spate of killing of bloggers as cowardly acts and underlined the need to work together to counter violent extremism.