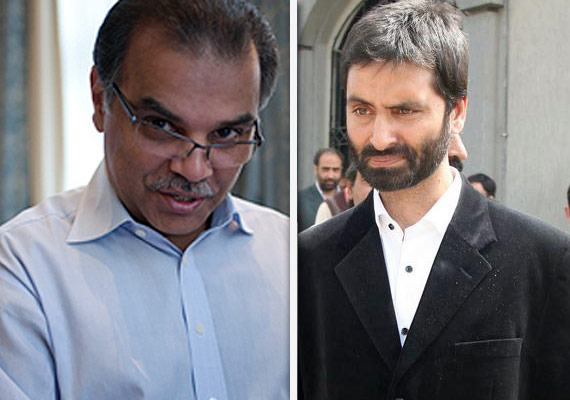 Islamabad, Mar 27: Kashmiri separatist leader Yasin Malik today dismissed controversial Pakistani-American businessman Mansoor Ijaz's claim that he had arranged a meeting between him and a top RAW official in 2000 in Delhi.  
Malik, chief of Jammu and Kashmir Liberation Front, said he had never met the chief or deputy chief of the Research and Analysis Wing as Ijaz had claimed during his testimony before a Pakistani judicial commission that is currently probing a mysterious memo that sought US help to stave off a feared coup after the killing of Osama bin Laden last year.  
During his testimony, Ijaz had referred to his purported contacts with intelligence agencies around the world and claimed he had arranged a meeting in Delhi in 2000 between Malik and RAW official C D Sahay, who later went on to head the Indian spy agency.
"When I was in detention or in Indian jails, personnel of the Intelligence Bureau or Military Intelligence came to interrogate me or to see me. Even while I was in detention, no personnel of RAW ever came to meet me," Malik told PTI.  
He said he had given a similar statement when he appeared before the Pakistani commission yesterday.  
Malik said Ijaz's allegations of a "secret meeting" between him and a RAW official had "serious political consequences for me as I have been exposed to danger".  
The JKLF leader travelled to Pakistan to appear before the Supreme Court-appointed commission to counter Ijaz's allegations.
During a seminar on Kashmir held at a hotel in Haryana in 2000, Ijaz had introduced himself as a "special envoy" of then US President Bill Clinton, Malik said.
Ijaz had made "negative remarks" about Muslims at the meet, he said.
"I got very angry and threw a shoe at him and took over the rostrum from him," Malik said.
The next day, Ijaz invited him to his hotel and offered an apology, he added.
While Malik was in Ijaz's hotel room, another man came there and the American businessman introduced him as an Indian businessman, the JKLF leader said.
This businessman suggested that Malik should meet then RAW chief A S Dulat but Malik left the room.
During a visit to the US in 2001, Malik met several US officials and asked them if Ijaz was Clinton's special envoy.  
The officials made it clear that Ijaz had never been assigned any official responsibility, Malik said.  
"I also went to the flat of Mansoor Ijaz with three of my friends and told him that he was a liar," Malik said.  
Malik may be called again by the judicial commission for cross-examination but a final decision is yet to be made in this regard by the panel, sources said.
Ijaz made public the memo last year, triggering a confrontation between the civilian government and the powerful military. Pakistan's envoy to the US, Husain Haqqani, was forced to resign due to the scandal.
Though the judicial commission was expected to submit its report to the Supreme Court on March 31, it has now applied for an extension to complete its work.