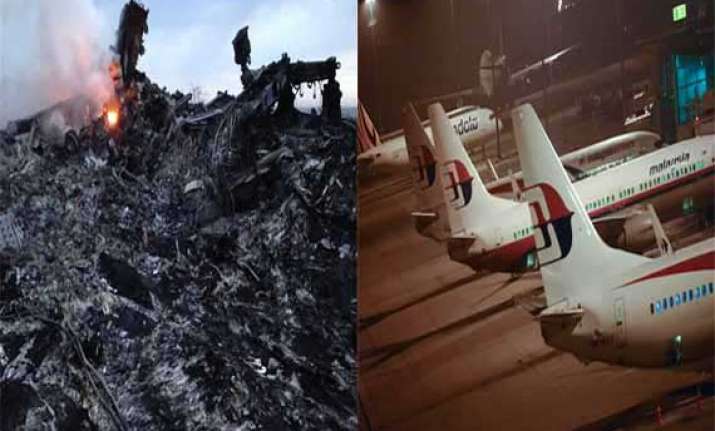 Kuala Lumpur/Kiev: Global shock and outrage mounted today over the downing of a Malaysian Airlines passenger jet killing all 298 people on board as the needle of suspicion pointed to pro-Russian Ukraine rebels who may have shot it, triggering a blame game.
World leaders demanded an "unimpeded" international probe into the tragedy asserting that those responsible must be brought to account.
Rescue workers and police officials scoured the sun flower fields in the villages of eastern Ukraine, largely under the control of pro-Russian rebels, for bodies of those on the ill-fated jet. Rescue workers have so far recovered 181 bodies.
Those killed included 189 nationals from the Netherlands from whose capital Amsterdam the Flight MH17 took off for the Malaysian capital Kuala Lumpur. About 100 of those killed were world renowned AIDS researchers and activists heading to Australia for an AIDS conference.
World Health Organisation spokesman Glenn Thomas and Joep Lange, former president of International Aids Society were among those dead.
The others killed were 44 Malaysians, 28 Australians, 12 Indonesians, nine from the UK, 4 Germans, 4 from Belgium, 3 from the Philippines, one each from Canada, New Zealand and Hong Kong.
The 15-member Malaysian crew included two ethnic Indians flight steward Sanjid Singh Sandu and Ms. Rajendran.
The nationalities of 18 passengers were still to be verified.
Ukraine has called the disaster an "act of terrorism" blaming it on Russia who it said has been aiding the rebels with advanced weapons.