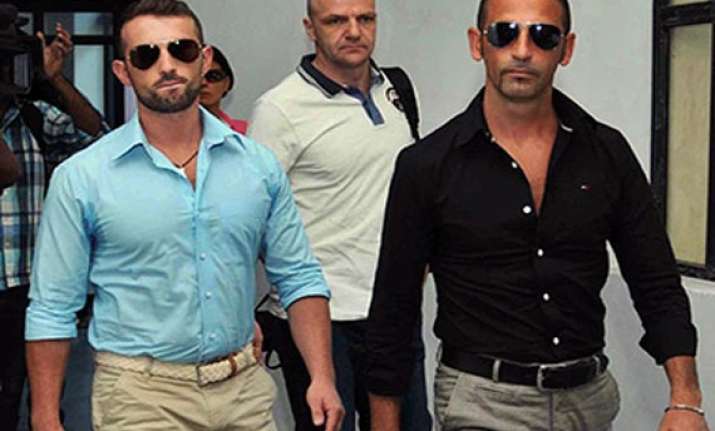 Rome: The Italian government said Tuesday it has petitioned the United Nations over the case of two Italian marines accused of murder in India while awaiting charges for two years.
Foreign Minister Emma Bonino said Italy has "initiated contact" with the Office of the United Nations High Commissioner for Human Rights (OHCHR) over "the lack of charges" and the "restriction of freedom" placed on the marines - Massimiliano Latorre and Salvatore Girone - since the alleged crime, reports Italian news agency ANSA.
The pair has been living and working at the Italian embassy in India pending charges for allegedly killing Valentine (aka Gelastine) and Ajesh Binki after opening fire on their fishing trawler while guarding the privately owned Italian-flagged oil-tanker MT Enrica Lexie off the coast of Kerala in February 2012.
"The High Commissioner for Human Rights has agreed to assess the petition," Bonino added.
Bonino reiterated her country's ire over the anti-terrorism charges sought against the India. "Our marines are neither terrorists nor pirates. They carry out a role in the name of the Italian government," said Bonino before foreign affairs and defence committees from parliament. "All options are open, from politics and diplomacy to legal channels. The goal is the dignified return of our marines."
Italy is angry over invoking of an anti-terrorism international piracy laws against the two marines and has challenged it in the Supreme Court. India's Supreme Court has scheduled a hearing on Feb. 18 to listen to the Italian and Indian arguments on the use of the anti-piracy law.
After the apex court hearing, the chairs plan to write to their counterparts in all the EU member States and the European Parliament in a bid to drum up international support.
The EU's High Representative for Foreign Affairs on Tuesday chastized India for seeking the charges, upholding Italy's objections. "It means Italy would be seen as a terrorist state and this is unacceptable," said Catherine Ashton.