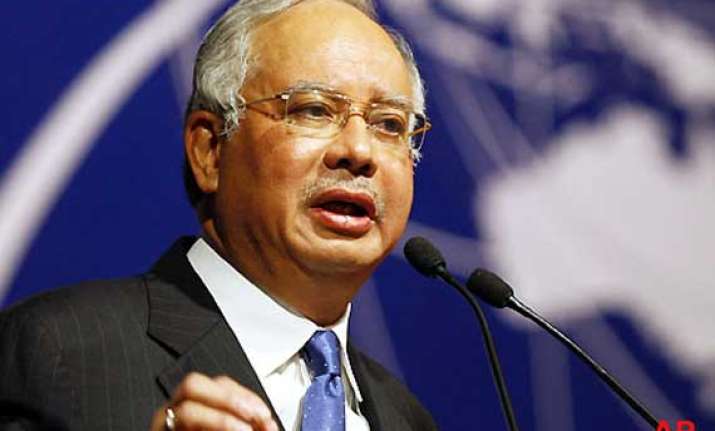 Kuala Lumpur: Malaysian Prime Minister Najib Razak Friday in a mosque near Kuala Lumpur International Airport prayed for the passengers and crew of a Malaysia Airlines plane that went missing March 8.
About a thousand Muslims living nearby came to the mosque for their regular prayer before Najib and other citizens prayed for the passengers and crew aboard the Boeing 777-200 jetliner seven days after it lost contact in the early hours March 8, Xinhua reported.
Najib did not make any comment on the futile search efforts for the missing plane involving aircraft and vessels from a dozen countries.
Mohammad Hafiz, who hosted the prayer, said he prayed for the 239 people on board everyday since last Saturday, and he would continue to do so until the plane was found.
Shamsani, a citizen who participated in the prayer, said he hoped that all of the passengers and crew members could come home soon.
Malaysia Airlines flight MH370 with 239 passengers and crew on board vanished without any trace about an hour after taking off from Kuala Lumpur early March 8. The Boeing 777-200ER was presumed to have crashed off the Vietnamese coast in the South China Sea.
The plane took off from Kuala Lumpur at 12.41 a.m. March 8 and was due to land in Beijing at 6.30 a.m. the same day. The 227 passengers on the flight included five Indians, 154 Chinese and 38 Malaysians.
Contact with the plane was lost along with its radar signal at 1.40 a.m. March 8 when it was flying over the Ho Chi Minh City air traffic control area in Vietnam.