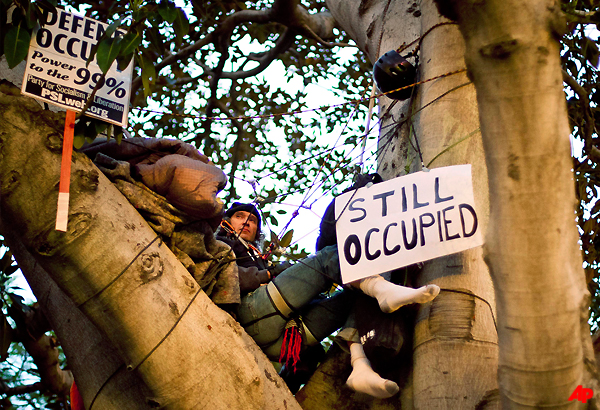 Los Angeles, Nov 29: For now, Wall Street protesters camped out on the Los Angeles City Hall lawn still have their tent city after defying a deadline to pack up and clear out. "Still occupied," read the sign of a protester up in a tree.

Hours after emerging from a possible confrontation with police largely unscathed on Monday, demonstrators turned to the federal courts to keep officers away.

They are arguing that the City Council had passed a resolution in support of Occupy Los Angeles and that the city's mayor and police did not have the authority to evict them.

The chances that protesters will get an injunction appear slim, constitutional experts say.

Until there is a decision, the tent city's inhabitants are left to wonder if and when police will push them out—and if there will be the kind of violence that has engulfed evictions in other cities when they do.

City officials say they will only move in on the camp when conditions are safest not just for protesters and officers but also the roughly 100 homeless people who had joined the encampment.

"There is no concrete deadline," Los Angeles Police Chief Charlie Beck said after hundreds of officers withdrew without moving in on the nearly 2-month-old camp.

The effort should come "with as little drama as possible," Beck told reporters.

Police and protesters have clashed elsewhere in recent weeks, most notably in Oakland, California, as officers cleared away camps that officials say have grown more dangerous for public health and safety.

Nine people were arrested in Maine on Monday after protesters at an encampment took down their tents and packed their camping gear after being told to get a permit or move their shelters.

Some of the encampments had been in use almost since the movement against economic disparity and perceived corporate greed began with Occupy Wall Street in Manhattan two months ago.

With each passing week, it seems a city moves in to close a camp. Like Los Angeles, Philadelphia officials imposed their own deadline for protesters to move to make way for a construction project.

On Monday, however, the camp was still standing.

In Los Angeles, protesters had prepared for police action since city leaders announced last week that the camp would be cleared. Campers had packed up about half of the nearly 500 tents.

Some protesters carried gas masks and one had even fashioned one out of duct tape and a plastic bottle.

Some activists had built a tree house out of wooden pallets in a clump of palm trees to make it more difficult to be arrested, while others just sat in a circle with their tents in the plaza.

"I definitely expected to be in jail by 3 a.m.," said Sean Woodward. "I'm happy we're still here."

Protesters chanted "we won, we won" as police left after only four arrests during a largely peaceful, six-hour demonstration against the eviction. The arrests were on charges of failure to disperse.

Instead of moving in to clear the camp, as had been expected, police concentrated on clearing several hundred protesters who had spilled into the street so morning rush-hour traffic would not be affected.

Hours later, several demonstrators asked a federal judge for an injunction against the city.

The civil rights complaint contends that Mayor Antonio Villaraigosa usurped the City Council's authority when he set a deadline of 12:01 a.m. Monday for the tent-dwellers to disband.

The council passed a resolution of support for the occupiers in October that effectively allowed them to remain on the lawn despite a city ban on overnight camping, the complaint argued.

"The City Council welcomed them with open arms and said they could stay as long as they want," said Jim Lafferty, executive director of the Los Angeles chapter of the National Lawyers Guild.

"The mayor simply does not have the authority to do this," he said.

The city attorney's office had not been served with the complaint and could not comment on it, spokesman John Franklin said. However, he said the city was prepared to oppose any injunction.

"We'll be in court," he said.

Constitutional law experts were skeptical of the injunction's chances.

The U.S. Supreme Court has held that while public parks can be used for protests, they are for the use of all people, not just one group, and that governments can restrict how a park is used for free speech purposes.

"Parks are open to free speech, but that's not a place they can authorize as their own home," said Eugene Volokh, a First Amendment expert at the University of California, Los Angeles, School of Law.