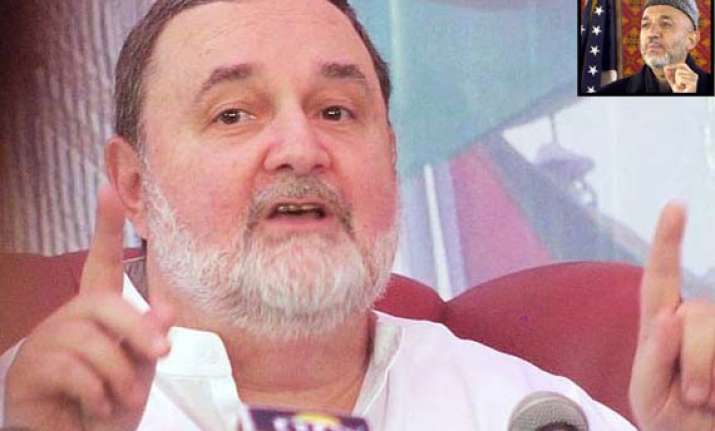 New York, Dec 14: Afghanistan's "accusatory" stance towards Pakistan will not help bilateral ties, Islamabad's envoy at the UN has said, advising President Hamid Karzai to "take a leaf out of India's book" and learn from the "enormous maturity" it has shown in dealing with issues. 

Noting that a "massive change around" has come today in India-Pakistan relations as compared to the post-26/11 environment, Pakistan's Ambassador to the UN Abdullah Hussain Haroon said the two neighbours are beginning to see "things from each others' perspective" thanks to the dialogue process. 

"I wish President Karzai could take a leaf out of the Indian book, instead of being accusatory towards Pakistan," Haroon told PTI here.

He said even if a "leaf falls on the grass inAfghanistan," the Afghan leader points a finger towards Islamabad, saying the "Pakistanis must have done it".  "It does not work that way. I think India would be a good example for Karzai to follow in which he should realise that this accusatory game gets no where". 

The Pakistani envoy said if India and his country are building ties, Afghanistan should "take a clue" and also be on the same track and "learn from India which has shown, in my mind, such enormous maturity".

"Let's talk to each other.... May be something good comes of it. That is what is happening between India and Pakistan. I think it is a proud moment for both countries," he said. 

Karzai had last week blamed Pakistani extremists for the attack on Shiite Muslims in Kabul that killed 58 people. 

Demanding justice from the government in Islamabad, Karzai had said his country will pursue the issue with Pakistan "very seriously".

Haroon further said the soothsayers who feel that another 26/11 would break up the India-Pak dialogue process should not be paid any heed and instead a message should be sent that the talks will continue to progress despite any such incident in either country.

"Despite whatever happens, we (need to) keep the talks going so that no one is encouraged to take the track off," he said adding now that "we have started, we will keep talking". 

Standards have been set in New York, New Delhi and Islamabad and the momentum has to be taken forward, he said. 

In recent months, leaders from the two nations have met on various occasions seeking to "write a new chapter" in their often tense relations.

Prime Minister Manmohan Singh had met his Pakistani counterpart Yousuf Raza Gilani on the sidelines of the SAARC summit in Maldives last month.

Before this meeting of the premiers, the Foreign Ministers of both nations S M Krishna and Hina Rabbani Khar also held talks at the summit.

Later Commerce Secretary level talks took place between the two nations to discuss ways to enhance trade ties. 

Haroon, however, cautioned that on the way both countries would have to arm themselves against radicalism as "radicalism is not going to be happy with any of this". 

"We have to prepare against that. There will be casualities, trouble but together we will be a larger amount of people who could combat against intolerance, hatred and strife," he said.