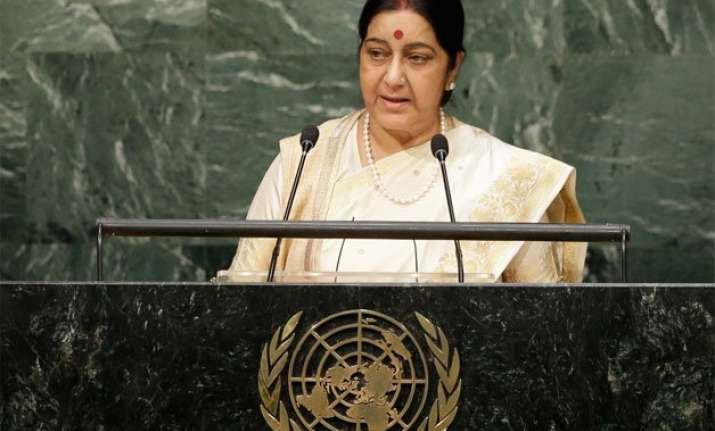 United Nations: Rubbishing Pakistan's 4-point formula for peace, India today asserted that it is ready to discuss all issues if the neighbouring country addresses "just one" point of ending terrorism emanating from there as she proposed NSA-level talks to address the problem.
Addressing the UN General Assembly, External Affairs Minister Sushma Swaraj referred to the perpetrators of 26/11 attacks who continue to roam freely in Pakistan and pressed the world community to ensure that countries which provide finances, safe havens and arms to terrorists "pay a heavy price".
A day after Pakistan Prime Minister Nawaz Sharif raked up Kashmir, the Indian minister used the same forum to raise the issue of "illegal occupation of parts of the Indian State of Jammu and Kashmir" by Pakistan and said terror attacks from there are engineered to legitimise it.
She made it clear that terrorism emanating from Pakistan is hampering normalisation of bilateral relations as she underlined that "talks and terror cannot go together".
"Yesterday the Prime Minister of Pakistan proposed what he termed as a four-point new peace initiative. I would like to respond. We do not need four points, we need just one - give up terrorism and let us sit down and talk," Swaraj said while addressing the 193-member body.
She said this was precisely what was discussed and decided by the two Prime Ministers at Ufa this July.
"Let me use this occasion to spell out our approach clearly. India remains open to dialogue," Swaraj said in her 25-minute speech in Hindi.
"Let us hold talks at the level of NSAs on all issues connected to terrorism and an early meeting of our Directors General of Military Operations to address the situation on the border," she said, adding "If the response is serious and credible, India is prepared to address all outstanding issues through a bilateral dialogue."
Prime Minister Narendra Modi and Sharif, during a meeting in Ufa in July, had agreed to hold NSA-level talks to discuss terror but these were cancelled at the last minute in August when Pakistan insisted on changing the agenda.
Sharing the challenges that India faces in its ties with Pakistan, the External Affairs Minister said "None of us can accept that terrorism is a legitimate instrument of statecraft."
She raised the issue of 26/11 carnage which was sponsored and controlled from Pakistan as also the latest attack in Udhampur in Jammu where a Pakistani terrorist was caught alive.
"The world shared our outrage at the 2008 Mumbai terror attacks in which citizens of many nations were helplessly butchered," Swaraj said, adding that it was an "affront to the entire international community" that the mastermind behind the attack is walking free in Pakistan.
This was a reference to LeT commander Zakiur Rehman Lakhvi, who is roaming freely in Pakistan despite India giving it loads of evidence about his involvement in the attacks.
"Not only have past assurances in this regard not been honoured (by Pakistan) but new cross-border terrorist attacks have taken place recently, in which two terrorists from across the border have also been captured alive," Swaraj said.
One of the terrorists was caught alive during attack on BSF convoy in Udhampur in Jammu and Kashmir.
"We all know that these attacks are meant to destabilize India and legitimize Pakistan's illegal occupation of parts of the Indian State of Jammu and Kashmir and its claim on the rest of it," the Indian minister said.
She said India has lived with the threat of terror for more than a quarter of a century and it was "tragically brought home to this very city" (New York) in the autumn of 2001, a clear reference to the 9/11 attacks.
Since then, the proliferation of terrorist acts, the rise of extremist ideologies, and the impunity of states that back it have not been adequately countered.
Swaraj emphasised that international terrorism can only be defeated by organized international action and asked the world must demonstrate that it has zero tolerance for terrorists who kill and maim innocent civilians with action based on the principle of prosecute or extradite.
"Member states must undertake their obligations to investigate and prosecute those who are alleged to have supported terrorism," she said.
At the same time, she asserted that an international legal regime, under the Comprehensive Convention on International Terrorism (CCIT), "can no longer be held up, nor can we be held hostage by seeking to define terrorism when the General Assembly in 2006 adopted the Global Counter Terrorism Strategy unanimously."
Talking about the threat of terrorism, she said "the safety of peacekeepers, the security of our nations, indeed the future of the international community itself is now dependent on how we respond to the greatest threat that we face today."
Targeting the UN on its 70th anniversary, she said it "appears as an ineffective institution" when gauged on the parameters of whether it has been able to prevent conflicts, managed to find permanent solution to these conflicts or showing the path of peace to the world which is going the way of violence.
"It has failed to effectively address the new challenges to international peace and security.... when we ask ourselves whether we have been able to prevent conflicts taking place in several parts of the world, the answer is 'no'. If we ask whether we were able to find permanent solution to these conflicts, the answer is 'no'. If we ask whether we were able to show the path of peace to a world which is going on the way of violence, the answer is 'no'."
She said that the world today is ravaged by war in three continents with the Security Council being "unable or unwilling to stanch the flow of blood".
Traditional solutions that emphasize force, Swaraj said, have only proven to exacerbate problems.
"We must ask ourselves if we have the political will to craft alternatives to conflict and to pursue them with commitment and single-minded dedication," she said.