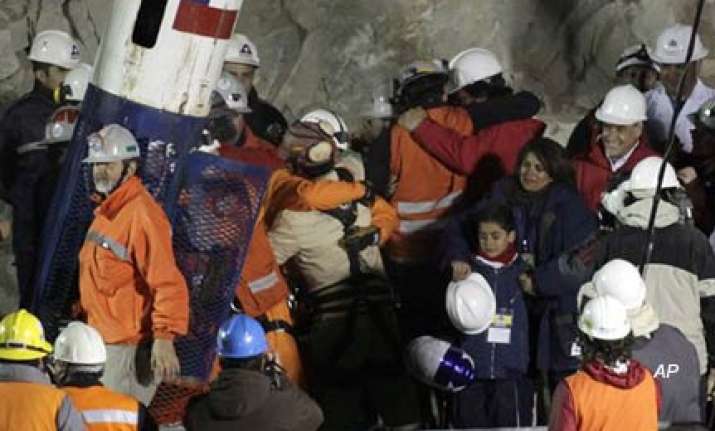 Mine(Chile), Oct 14 : The last of 33 miners trapped underground in Chile for 10 long weeks rose to taste freedom and enjoy the sweet embrace of loved ones in an emotional finale to a clockwork rescue that kept the world spellbound.
Luis Urzua, the grizzled leader of the miners, stepped out of a rescue capsule dubbed the Phoenix and into the embrace of cheering wellwishers, including Chile's President Sebastian Pinera, as a horn blasted the end of a 70-day ordeal. As the world watched, the miner and his rescuers belted out the Chilean national anthem, basking in pride over a life-saving operation that combined ingenuity and tenacity. 
"I congratulate you because you did your duty, leaving last like a ship's captain," Pinera told Urzua, who was greeted by his son.
But six rescuers remained in the mine -- one will eventually be alone -- and must follow Urzua out. Even though their fate was still not secure, they selflessly rejoiced as the final miner emerged to scenes of utter jubilation.
There had been greater anxiety at the start of the rescue operation some 22 hours earlier, when horn blasts and flashing lights, had greeted the safe arrival of Florencio Avalos, the first out.
The miners stepping out of the capsule after a 15-minute ascent up a 2,041-foot escape shaft pumped their fists towards the sky they had not seen for 69 days, or dropped to their knees in prayer. Their salvation triggered a global, shared sense that human ingenuity, this time, had cheated death and that hope had triumphed, amazingly, over fear and disaster.
"I have changed, I am a different man," said Mario Gomez, the ninth to be rescued and, at 63, the oldest of the group. "I have been with God and with the devil," said the second miner to be saved, Mario Sepulveda, 40. "I seized the hand of God, it was the best hand. I always knew God would get us out of there." 
As night stole across the San Jose gold and copper mine where the dramatic event was unfolding, 31 miners had been brought to the surface, and two were left waiting their turn -- well ahead of schedule. 
"We hope to successfully complete this process by the end of the day," Mining Minister Laurence Golborne told reporters at the mine. "We moved very rapidly, faster than originally planned." 
The inspirational operation mesmerized Chile and audiences worldwide, with an estimated billion people glued to television screens and the Internet. 
Presidents Barack Obama of the US, Nicolas Sarkozy of France, Luiz Inacio Lula da Silva of Brazil, as well as Pope Benedict XVI and other dignitaries sent their congratulations. (AFP)