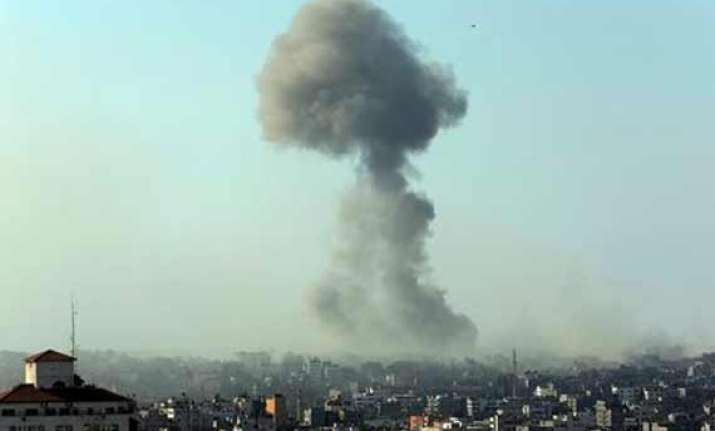 Gaza/Jerusalem: A 12-hour 'humanitarian window' began on Saturday after Israel and militants in Hamas-ruled Gaza Strip agreed to a UN request for a pause in fighting, but a ceasefire deal still looked elusive even as the 19-day conflict has killed 884 Palestinian and 38 Israelis.
Hamas spokesman Sami Abu Zuhri said on Thursday night that there was 'national consensus on a humanitarian truce... for 12 hours on Saturday'.
The Israel Defence Forces (IDF) later confirmed the truce but vowed to continue to 'locate and neutralise' Hamas tunnels during the truce that started at 8 A.M. (0500 GMT) on Saturday.
"We will respond if terrorists choose to exploit this time to attack IDF personnel or fire at Israeli civilians," the Israeli Army said in a statement.
Meanwhile, Palestinian Health Ministry in Gaza said that so far 884 people, most of them civilians, have been killed there with 19 dying overnight in Israeli strikes. Two Israeli soldiers were also killed in fighting in Gaza raising the death toll on the Israeli side to 38.
Meanwhile, international efforts to negotiate a longer seven-day ceasefire continues with Foreign Ministers from the US, UK, Turkey and Qatar scheduled to meet in France later today to try to negotiate a longer-term truce.
US Secretary of State John Kerry had on Friday said that he was still confident of a longer ceasefire, despite media reports that Israel had rejected his proposal.
The announcement of the humanitarian window came shortly after Israeli Defence Minister Moshe Ya'alon warned that ground operations in Gaza could soon be broadened 'significantly'.
"You need to be ready for the possibility that very soon we will instruct the military to significantly broaden the ground operation in Gaza," he told the soldiers.
Hamas has insisted that it would not agree to any long-term truce that did not lead to an end to Israel's blockade of the Gaza Strip and made provisions to open crossings to allow free movement of people and goods.
Palestinian militants also fired a barrage of rockets out of Gaza, triggering sirens across much of southern and central Israel. Israel's military said its Iron Dome defence system had intercepted and destroyed several rockets.