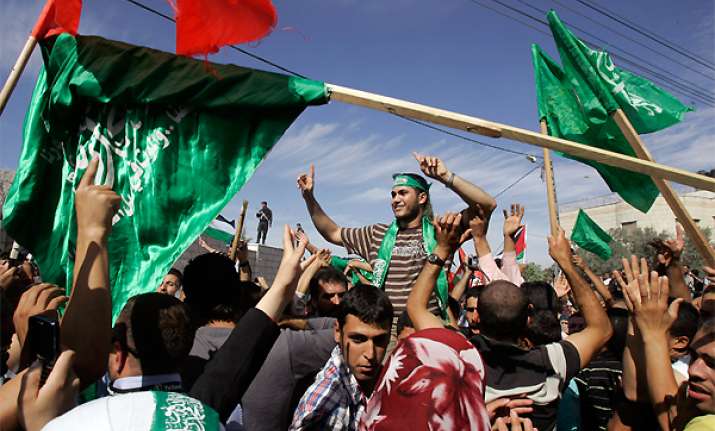 Jerusalem, Oct 18: Both Israelis and Palestinians rejoiced at the successful completion of round one of the swap deal in which 477 Palestinian prisoners were released for a lone Israeli soldier abducted by Gaza militants in a cross border raid more than five years ago.

As Israelis waited with bated breaths, glued to television, to see the first glimpse of Gilad Shalit, hundreds of Palestinians lined up to welcome their prisoners in Gaza and the west Bank.

"I could not hold my tears. I felt one of my own is coming back home. I woke up at 5 in the morning and have been glued to the television. Just wept uncontrollably at the first sight of Gilad", said Na'ama Melisa, a mother of four young children, describing her feelings.

Similar sentiments were echoed all around on the streets and on radio and television channels by Israelis.  Meanwhile, hundreds of Palestinians waited to greet released prisoners in the Gaza Strip with Hamas, controlling the coastal territory, arranging a military band to accompany the celebrations.

Dozens of Palestinians also gathered near the Ofer Prison near West Bank to celebrate the release of prisoners to that territory.

Celebrations were also noted in east Jerusalem and the northern Israeli Arab neighbourhood of Umm al-Fahm where Palestinians waving Hamas and Palestinian flags waited to receive prisoner Muhammad Mahaja.

"We are waiting for my father patiently and with concern. I missed him very much and I'm waiting to hold him and touch. This is a historic day for us, we shall never forget it," his daughter said.