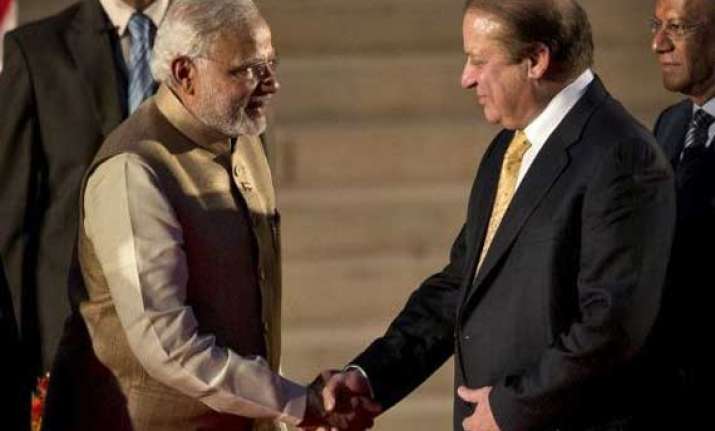 Islamabad: Pakistani Prime Minister Nawaz Sharif visiting or not visiting India to attend his counterpart Narendra Modi's swearing-in ceremony is not the issue but Pakistanis need to read Modi's intentions with political realism, a leading daily said Saturday.
"Pakistanis must evaluate beyond gobbledygook and read his (Modi's) intentions with political realism," an article headlined 'Is Modi the game changer?' in The Nation stated.
"The game that may unfold is beyond party lines and impacts Pakistan permanently. Modi, chastised by many, is a man at the helm. (Nawaz Sharif) Going (to India) or not going is not the issue. Failing to read the script is unpardonable. Every right or wrong step bears enduring significance," the article written by Samson Simon Shara, a retired officer of the Pakistan Army and a political economist and television anchor, said.
"Prime Minister Modi's objectives are handling terrorism, Kashmir and building a necklace of allies around India for security and development," it said, adding that Modi has shown pragmatism in concealing the ideology of the RSS.
"With his immense energy and motivation he is someone India needed after successive weak central governments. While Pakistan's political parties are handicapped by sycophants, BJP comes to power with one of the world's best think tanks, on the principal of 'Bharat First'."
Stating that given his record, Modi is likely to hang around, it stated: "Pakistanis would do well to widen their focus beyond the Muslim massacre in Gujarat and look to work with a man who means business."