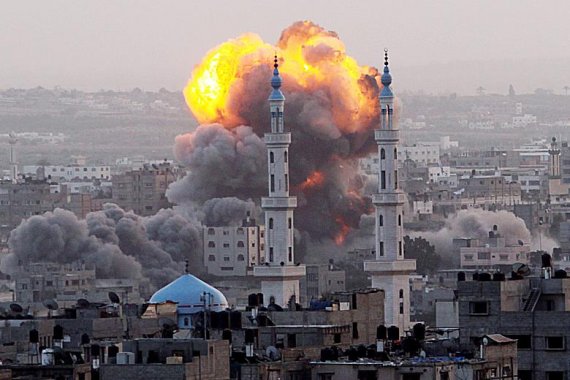 Baghdad: Iraqi security forces and Kurdish Peshmerga freed two towns in northern and central Iraq Saturday after fierce clashes with militants of the Islamic State (IS) terrorist organisation, a security source said.
In the early hours of the day, the Kurdish Peshmerga troops, backed by armoured vehicles, artillery and US-led coalition aircraft, advanced to the town of Zumar, some 70 km northwest of Nineveh's provincial capital Mosul, and fought fierce battles with IS militants, Halkurd Hikmat, head of the media office of the Peshmerga forces, told reporters.
"The Peshmerga forces managed to enter Zumar after they seized five villages around the town, and the troops are defusing dozens of roadside bombs and booby-trapped buildings in several neighbourhoods inside the town," Xinhua quoted Hikmat as saying.
"The warplanes of the US-led coalition carried out many airstrikes on the IS positions since Friday and had killed many of the IS militants and destroyed their vehicles," he added.
IS militants seized Zumar and its nearby oilfields in Ayn Zala after clashes with the Peshmerga Aug 3 during the major advance toward Kurdistan region in which the militants seized large areas around the Kurdish region and were about 60 km away from the regional capital city of Erbil, some 350 km north of Baghdad.
In central Iraq, the security forces, backed by some 6,000 Shia militiamen and Iraqi aircraft, managed to free the town of Jurf al-Sakhar, some 60 km south of Iraq's capital Baghdad, after six hours of fierce clashes with IS militants, a security source told Xinhua on condition of anonymity.
The battle in the town was part of a two-day offensive that targeted positions of IS militants in seven areas around Jurf al-Sakhar, which stretches to the northwest desert land leading to the battlefield town of Ameriyat al-Fallujah, the source said.
The troops and allied militiamen are clearing the streets and booby-trapped buildings after they pushed IS militants outside the town, he added.
"The battles are under way and the troops will soon clear the strategic road between Ameriyat al-Fallujah and the road that links Baghdad with the holy Shia city of Karbala, some 110 km south of Baghdad," the source said.
The recent advance of the security forces towards Ameriyat al-Fallujah is a significant success for the Iraqi forces, which will be able to push back the danger of IS militants on the besieged town.
Ameriyat al-Fallujah is the last major town ahead of Baghdad that is under government control, and also located some 60 km north of Karbala, some 108 km south of Baghdad. If the militants seize Ameriyat al-Fallujah they will be closer to the Iraqi capital and will also be able to move closer to Karbala and pound these places with artillery and mortars.