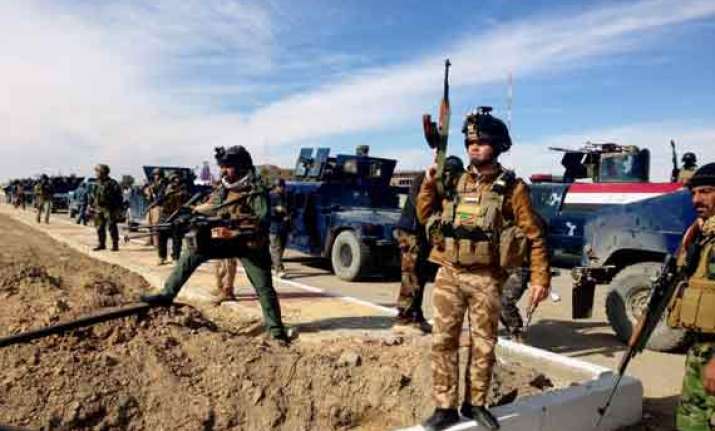 Baghdad: Militants targeted a Sunni mosque in a province next to the Iraqi capital during weekly prayers today, killing at least 46 people and wounding over 50 as members of the Islamic State group continue to push through the area, officials said.
An army officer and a police officer said a suicide bomber first broke into the Musab bin Omair Mosque in Imam Wais village in Diyala province, some 120 kilometres northeast of Baghdad, detonating his explosives before gunmen rushed in and opened fire on worshippers.
The officials said that fighters with the Islamic State group have been trying to convince members of two prominent local Sunni tribes the Oal-Waisi and al-Jabour to join them but they have thus far refused.
Two medical officials confirmed the casualty figures. All of them spoke on the condition of anonymity because they are not authorised to brief the media. The towns of Jalula and al-Saadiyah have recently fallen to militants with the Islamic State group but Imam Wais is thus far in government control.
 Since early this year, Iraq has been facing an onslaught by the extremist Islamic State group and allied Sunni militants across much of the country's north and west.
The crisis has worsened since June as the militant fighters swept through new towns in the north, killing dozens of people and displacing hundreds of thousands, mainly members of the minority Christian and Yazidi religious communities.
Officials in Imam Wais said that Iraqi security forces and local Shiite militiamen ran to the scene following the mosque attack to reinforce security in the area, but they were deterred by bombs planted by the militants, which allowed them to flee. Four Shiite militiamen were killed and thirteen wounded by the explosive devices.
Iraq's most influential Shiite cleric has called on the country's leaders to settle their differences in a "realistic and doable" manner and swiftly form a new government, amid the growing Sunni insurgency that threatens to break up the country.
Grand Ayatollah Ali al-Sistani said the next government should be made up of candidates who care about "the country's future and its citizens" regardless of their ethnic and religious affiliations. Al-Sistani warned that that politicians' "demands and conditions could derail the forming of the new government."