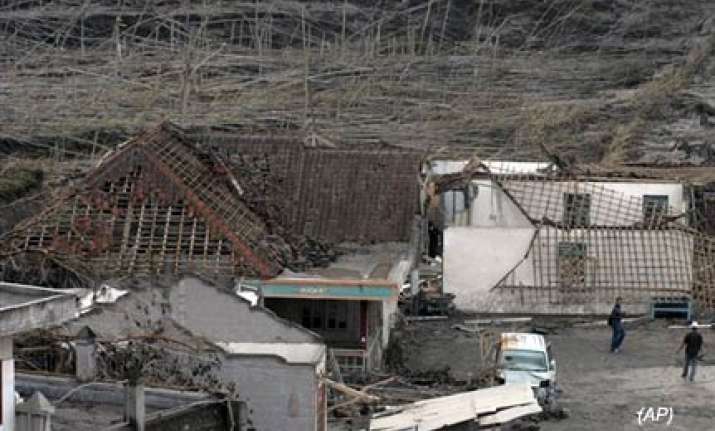 Jakarta : Indonesia 's Mount Merapi erupted on Thursday for the second time in a week, blasting vast plumes of ash into the sky, as the death toll from the initial eruption and a tsunami that hit remote western islands reached 377.
There were no immediate reports of new casualties after Merapi's second eruption. More than 40,000 people had fled or been evacuated from Merapi's slopes earlier in the week, but many started to return after the volcano appeared to become calmer. Officials said the death toll from a tsunami that hit the remote western Mentawai islands on Monday had reached at least 343. The tsunami was triggered on Monday by a 7.5 magnitude quake.
A day later, Mount Merapi on the outskirts of Yogyakarta city on Java island erupted, killing at least 34. President Susilo Bambang Yudhoyono, who had been due to take part in a summit of Asian leaders in Hanoi from Thursday to Saturday, flew back to Indonesia after the twin disasters. "The president was very moved when he met the victims of the tsunami and earthquake," Yudhoyono's spokesman, Julian Pasha, said, adding that the president planned to return to Hanoi before Saturday.
"He has issued instructions for all aid to continue to flow in without disruption." Parts of an early warning system installed after a huge 2004 tsunami killed more than 226,000 people had been stolen but overall the system still worked, said the head of the meteorological agency, Sri Woro Harijono.
"Yes, some of our sensors disappear because they are stolen, such as seismographs and solar cells," she said. "But it is just one or three sensors out of 100. The system works fine." Local media reported that parts of the tsunami early warning system had not worked properly because they had been vandalised or removed, while Metro TV broadcast footage of villagers questioning the effectiveness of the warning system.
"This has also been reported to the Agency for the Assessment and Application of Technology but we also need to make sure this information is verified properly," said Pasha. "We know that when the quake happened, within 10 minutes this enormous tsunami came. So maybe the speed with which it came meant that the early warning system didn't work."
Indonesia sits on the Pacific "Ring of Fire" and is prone to earthquakes and volcanic eruptions. Mount Merapi killed 1,300 people in 1930. In December 2004, a tsunami caused by an earthquake of more than 9 magnitude off Sumatra killed more than 226,000 people. It was the deadliest tsunami on record.