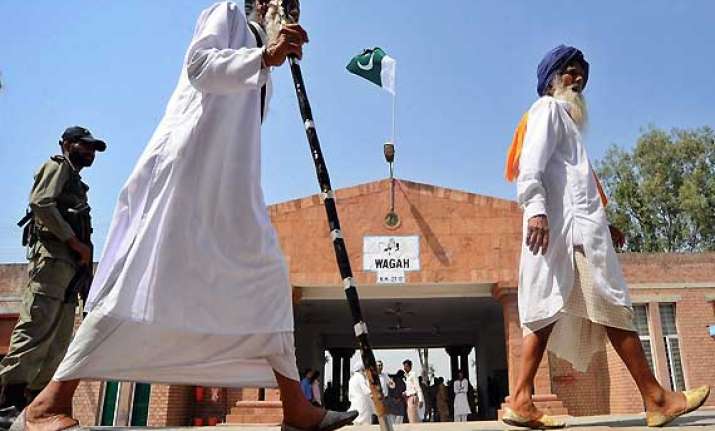 Lahore, Jun 9: Around 200 Indian Sikh pilgrims crossed into Pakistan on foot via the Wagah land border today after a mix-up prevented them from travelling across the frontier by train, officials said.
The Indian Sikhs, during their nine-day stay in Pakistan, will participate in the 'Jore Mela', which is held every year at Gurdwara Dera Shahib in Lahore to mark the martyrdom of Guru Arjun Dev.
Some 500 Indian pilgrims were unable to travel by train yesterday after Indian authorities refused to receive a train sent by Pakistan Railways, Pakistani officials said.  
However, Indian officials told PTI that the mix-up had occurred due to a "communication gap." The pilgrims were subsequently given permission to cross the border on foot, they said.
Fraz Abbas, a Deputy Director of the Evacuee Property Trust Board (EPTB) that is responsible for maintaining shrines of minority communities, told PTI that this was the first time that such an incident had occurred.
He said, according to the annual calendar, the Indian Sikhs had been issued visas to take part in Jore Mela.
"The Indian authorities had not told us about not allowing the 'yatris' to board the Pakistani train," he contended.  
Kirak Singh, who arrived from Amritsar, said Sikh pilgrims had waited at the Attari and Amritsar railway stations for several hours yesterday to be allowed to depart to Lahore.
"At 5 pm we were told to go home as we were to travel to Lahore on Saturday," Singh said.
He said the pilgrims had protested at Attari and Amritsar railway stations.
The Indian Sikhs urged the governments of India and Pakistan to make "hassle-free arrangements" for pilgrims.  
The Shiromani Gurdwara Prabandhak Committee, a representative body of Indian Sikhs, has reportedly made some amendments in its annual calendar of events in Pakistan.  
The ETPB said the Indian body did not inform it about these changes.
"We follow the Nanak Shahi calendar of the Sikh community, which is recognised by the two countries as well as other countries where Sikhs are living. Under this calendar as well as the bilateral protocol, we had informed the Indian government about arrangements and the arrival of Sikh yatris.  
"We also informed the Pakistan High Commission in New Delhi to issue visas to those intending to participate in Jore Mela," an ETPB official said.
The ETPB has made arrangements like free food, security, transport and lodging for the pilgrims.
Under an agreement signed by India and Pakistan in 1955, a total of 1,000 Sikh pilgrims can visit Pakistan to attend Jore Mela every year.