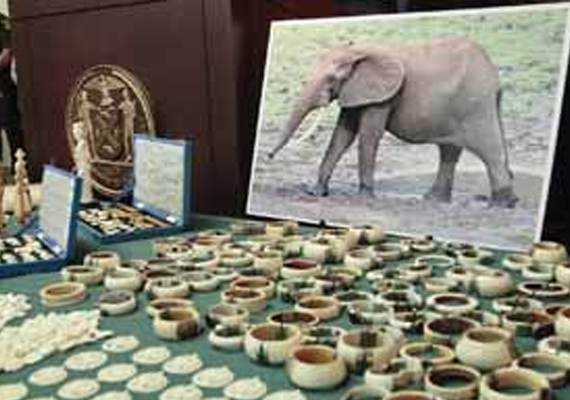 New York, Jul 13 : An Indian-American businessman here has pleaded guilty to selling jewellery and artifacts in Manhattan worth over USD two million made from illegal ivory obtained from endangered and threatened elephants from Africa.




 Mukesh Gupta, 67, alongwith Johnson Jung-Chien Lu, 56, entered into a plea agreement with the Manhattan District Attorney's office under which Gupta and his firm Raja Jewels must forfeit elephant ivory worth nearly USD two million.

 The investigation led to the seizure of close to one ton of illegal ivory articles and items.

Gupta, Lu and their companies pled guilty to five counts of illegal commercialization of wildlife.

"Poachers should not have a market in Manhattan," Manhattan District Attorney Cyrus Vance said in a statement.  "It is unacceptable that tusks from elephants wind up being sold as mass-produced jewelry and unremarkable decorative items in this city."

Under the plea agreement, Gupta and his company are also required to pay USD 45,000, which will be donated to the Wildlife Conservation Society (WCS) for use in the organization's projects involving elephant population protection, anti-poaching efforts and combating the illegal ivory trade.

Lu and his company New York Jewelry Mart must forfeit ivory valued at approximately USD 120,000 and pay USD 10,000 to be donated to the WCS.

Vance said despite efforts to protect populations of endangered and threatened species, poachers are pushing them to the brink of extinction.

"In order to curb the poaching of elephants in Africa and Asia, we need to curb the demand side of the illegal ivory trade right here at home," he said, adding that Gupta and Lu's guilty pleas are a small, but important, step in protecting endangered and threatened elephant species.

 According to documents filed in court, Gupta illegally sold elephant ivory from his Manhattan store and supplied the ivory to Lu.

Investigators and agents seized elephant ivory articles, including bracelets, carved tusks, earrings, charms, pendants, carvings and beads.

The elephant ivory items seized from Raja Jewels, which filled more than 70 boxes, had a retail value of more than USD two million.

Neither Gupta nor Lu had official permits to sell ivory.  The global demand for elephant ivory jewelry, carvings and articles has resulted in a significant reduction in both species' populations.

Despite international efforts to halt elephant poaching and stem the illegal ivory trade, the black market for elephant ivory is thriving.

Under the New York State Environmental Conservation Law, it is illegal to sell, offer for sale or possess with intent to sell any articles made of endangered or threatened wildlife species unless the seller has been granted a license or permit from the New York State Department of Environmental Conservation (DEC).

A condition of any such permit is that the applicant or licensee may only sell ivory that meets strict federal requirements regarding proof that the ivory is antique or pre-dates the listing of the species under the US Endangered Species Act (ESA).

In 1976, the Asian Elephant was listed as an endangered species under the ESA and in 1978 the African Elephant was added to the list as a threatened species.

All elephants today fall into one of these two species listed on federal endangered and threatened species list and so the sale of any elephant ivory is prohibited without a permit from the DEC.

According to TRAFFIC, a wildlife trade monitoring organization, in 2011, more than 24 tons of ivory was seized, making it the worst year in elephant death since the 1989 ivory ban.

Between 2002 and 2006, four out of every 10 dead elephants were killed by poachers, but today eight out of 10 dead elephants are killed by poachers, according to the Convention on International Trade in Endangered Species of Wild Fauna and Flora.

The largest demand for this illegally traded ivory comes from China and Japan, and popular uses for the ivory include billiard balls, piano keys, carved art and jewelry.

 DEC Commissioner Joe Martens said as an endangered species, the existence of elephants is threatened whenever opportunists kill them recklessly for their valuable ivory.