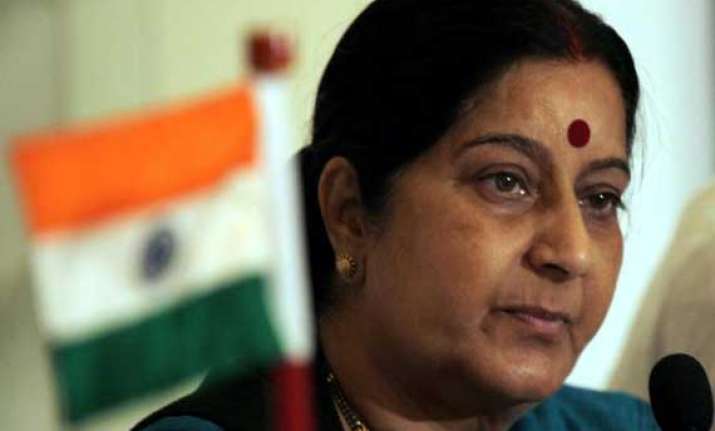 Hanoi: India today decided to ramp up its engagement with Vietnam in the oil sector and deepen defence ties with the strategically-important country which called for a more active Indian role in maintaining freedom of navigation and security in the disputed South China Sea.
The Indian desire to deepen its ties with Vietnam, especially in the oil sector, besides defence and trade, was conveyed to the top leadership here by External Affairs Minister Sushma Swaraj.
In a move that could rile China, which has publicly asked New Delhi to keep off from the resource-rich South China Sea, India is assessing whether to explore oil in the five new blocks that have been offered by Vietnam.
"External Affairs Minister mentioned that India is already engaged and is committed to continue cooperation with Vietnam (in oil sector) and also is looking to expand its cooperation with Vietnam in this sector," Ministry of External Affairs spokesperson Syed Akbaruddin said.
 He said both sides also discussed "briefly" the five oil blocks which Vietnam had offered to India during the visit of Secretary General of Vietnamese Communist party Nguyen Phu Trong, last November.
"OVL (ONGC Videsh Limited) is looking at them in terms of their feasibility and is in touch to see how to proceed further," he said.
Asked if the new oil blocks are situated in the disputed territory of South China Sea, Akbaruddin said, "These have to be assessed. These are, according to Vietnam, within their domain."
Swaraj's visit to Vietnam comes just days after Hanoi renewed India's lease of two oil blocks in South China Sea for another year.
Vietnam, which has an acrimonious relationship with China due to their standoff over the South China Sea, said it is time to build a "stronger" ASEAN-India strategic partnership in the 21st century.
Recalling Swaraj's statement in Myanmar earlier this month, Vietnamese Deputy Prime Minister and Foreign Minister Pham Binh Minh said, "India's strategic partnership owes its strength to the fact that your Look East policy meets our ASEAN's outward looking policy."
He said future development and integration of ASEAN and India "largely lie in East Sea (the South China Sea) and the Indian Ocean. So, our cooperation should focus more on maintaining maritime safety and security, freedom of navigation and settling territorial disputes through peaceful means on the basis of international law, including UNCLOS."
Delivering the keynote address at the 3rd Roundtable on ASEAN-India Network of Think Tanks here, which he jointly inaugurated with Swaraj, Minh said the next 5-10 year period is crucial to the relations between India and the grouping "and even more with ASEAN becoming a full-fledged community and India a well-established power in the world."
He said the Association of Southeast Asian Nations (ASEAN) welcomes Prime Minister Narendra Modi's reaffirmation of India's Look East Policy and cooperation with the 10-member grouping.
Minh said ASEAN always views India as a key element in the evolving regional architecture.
He said the people are talking about the "Indo-Pacific" in recognition of the "indispensible and inseparable" role of India as well as the centrality of ASEAN community in future of the region.
"Today, the Asia-Pacific has become a centre of global political economic gravity and a key theatre for the intense interplay among major powers. We recognise that ASEAN and India stand at an important turning point," Minh said.
"We both aspire for a peaceful, stable region where sovereignty and territorial integrity are fully respected, where the rule of law, especially the fundamental principles of international law such as UN Charter, the UNCLOS continue to govern inter-state relations and how inter-state conflicts are resolved, without the threat or use of force," he said without mentioning its disputes with China. 
China has been objecting any activity in the South China Sea region including Indian oil exploration as it has territorial disputes with some ASEAN countries, including Vietnam and the Philippines.
Terming the South China Sea as a disputed region, China had in March 2012 warned India to refrain from undertaking oil exploration in the resource-rich Vietnamese blocks in order to ensure "peace and stability" in the area.
Due to its estranged ties with China, Vietnam is looking at India for a deeper defence cooperation which includes possible procurement of weaponry besides training especially that of the Navy. Media reports have said that Vietnam is looking at buying BrahMos Missiles from India. 
India and Vietnam today reviewed the defence cooperation especially in terms of human resource development. 
"That is the area on which we are working on. There was generally satisfaction and the Vietnamese Prime Minister said our relation is based on trust, mutual understanding and mutual support. There was a feeling that we could do more in terms of HRD," Akbaruddin said.
Asked if it means that both sides have agreed to deepen defence cooperation, he said "there was willingness on both sides that we further deepen the relationship." Both sides also discussed security ties and there was a "satisfaction" that the entire architecture of security linkages is in place.
President Pranab Mukherjee is to visit Hanoi next month.