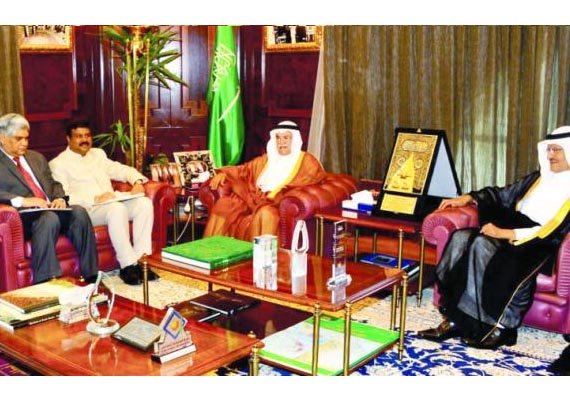 Riyadh:  With oil imports from Iraq  on the verge of tapering off because of the emergence of Islamic State, India's Petroleum and Natural Gas Minister Dharmendra Pradhan has held talks with Saudi Arabia's oil minister and other officials seeking to hike oil and gas imports from the Kingdom.  
Saudi Arabia is the biggest supplier to India, selling 38.18 million tonnes of oil, which comes to 20.18 pc of India's total oil imports in 2013-14.
Pradhan met the Saudi Petroleum Minister Ali bin Ibrahim Al-Naimi in the presence of Prince Abdulaziz bin Salman bin Abdulaziz, who is assistant petroleum minister. Advisors to the Saudi Petroleum Minister Dr Ibrahim bin Abdulaziz Al-Muhanna and Dr Nasser Al-Dosari, the Indian ambassador Hamid Ali Rao were also present during the talks.
During his two-day visit, Pradhan also visited the Dhahran-based Saudi Aramco, which operates the world's largest onshore oilfield and offshore oilfield. Saudi Aramco's estimated asset comes to $30 trillion.
India is currently trying to diversify its oil imports and wants to buy crude from the US, Russia, Colombia and Mexico. The new strategy is being formulated in the wake of apprehensions about disruption of oil supplies from West Asia, which includes Iraq and Syria.
India spent $143 billion on import of crude oil in 2013-14. It now wants the US to extend its policy of allowing gas exports to crude oil as well. Iraq exported 24.63 million tonnes of oil, about 13.02 pc of India's total oil imports, during 2013-14.
With the Islamic State occupying swathes of territory in Iraq, oil supplies from Iraq to India may be in jeopardy.