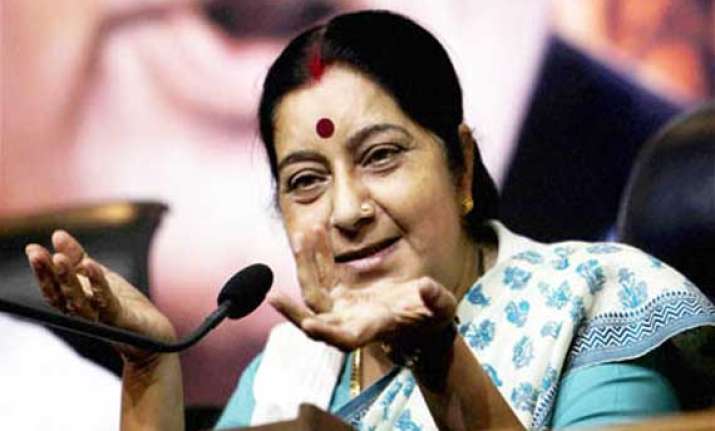 Dhaka: Describing illegal immigration from Bangladesh as a "sensitive issue", External Affairs Minister Sushma Swaraj has underlined the need for consultations with all stakeholders to carefully handle the problem along India's nearly 4,000-km porous border with its eastern neighbour.  
The new Indian government wants to take Indo-Bangladesh relations to a new high, Swaraj said in an interview to a leading Bangla daily, during her first stand-alone visit as foreign minister.
"We not only want to maintain the relationship both countries enjoyed during the previous regime, but also want to take it to a new height," she told Prothom Alo daily.  "The illegal migrants issue is a sensitive subject in any country and needs careful handling," said Swaraj.  
Prime Minister Narendra Modi during his election campaign had threatened to deport all "illegal migrants from Bangladesh", especially when he campaigned in West Bengal and the states of the northeast.
"We want to address the issue through consultations with all stakeholders... The issue is also important for both the countries on security front..." she said.  
She said India shared its longest international boundary with Bangladesh.
"It's a porous border. People living on the border are poor and the areas are densely populated. For this, lots of illegal activities are taking place... Both countries should work together to stop illegal activities in the border areas..."
Swaraj, however, added the issue also highlighted the need for "better border management" and "it is the responsibility of both the countries to ensure it".
"India has borders with several countries but its frontier with Bangladesh is the longest one (and) this border is porous. The people living in these border areas are poor while the entire area is densely populated and therefore many illegal activities occur there," Swaraj said. 
She said India though security of both Bangladesh and India were interlinked and therefore "both the countries should work together to control these illegal activities".  
"If the security is ensured, our border areas will become prosperous and for which rule of law will have to be strengthened. The helpless and innocent people must not be allowed to be victims of mindless activities," Swaraj said.
Commenting on the Teesta water sharing treaty and Land Border Agreement (LBA), Swaraj said, "We are trying to build consensus within our country on the Teesta treaty. For land border agreement, a constitutional amendment bill has been tabled in the Rajya Sabha. We are working on a political consensus on the issue".