Follow us on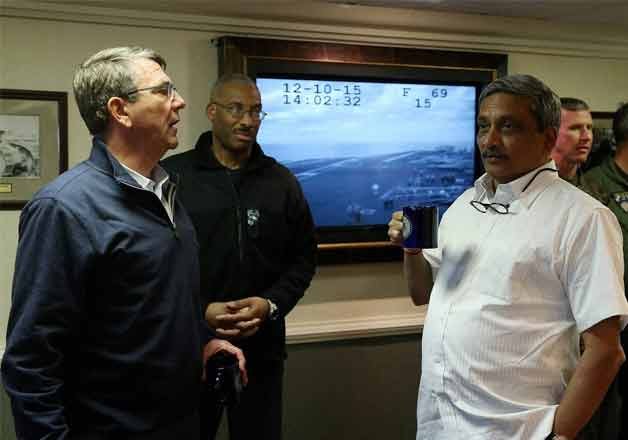 Washington: India has offered to share more intelligence on terrorism with the US as it stressed on countering all shades and affiliations of terror without any differentiation.
Visiting Indian Defence Minister Manohar Parikkar and US Defence Secretary Ashton Carter discussed many issues including the threat posed by various terrorist groups, including some Pakistan based outfits.
"Terrorism has become a global phenomenon and requires a comprehensive response,"  Parrikar said at a joint press conference at the Pentagon on Thursday after bilateral talks with Carter.
"Terrorists of all shades and affiliations must be countered without any differentiation," he declared noting that "the issue of terrorism was a key topic of discussion in my all engagements."
A joint statement issued after the talks noted that Parrikar and Carter "also discussed a wide range of regional security issues, including the threat posed by ISIL and entities such as Al Qaeda and its affiliates, Lashkar-e-Taeba, Jaish-e-Mohammad, D Company, the Haqqani Network, and other regional terror groups."
Parrikar also ruled out a change in India's Middle East Policy. Asked if India was considering increasing its role in countering the Islamic State, he said: "India's policy on the Middle East has been the same. No change in the policy."
"While we share intelligence, we believe that whatever role India has to play, it would play under the United Nations."
"So, there is no change in standards. But we are sharing intelligence, we don't mind to go one step forward in sharing the information."
Asked at a briefing for the Indian media, if India would provide US information, Parrikar said India had offered to share information, but it was not a one way street.
"India works only under the UN flag, but there is no problem in sharing information as the scourge of terrorism has to be nipped in the bud."
Asked how the US was coordinating with India on regional issues of counterterrorism as in the latest incident of terrorism in the US, a Pakistani origin couple had gunned down 14 people, Carter said at the joint press event that the US had regular conversations with India about the issue.
"We have regular conversations with India both about counterterrorism and about regional security issues," he said. "And obviously, terrorism of all kinds in South Asia has been and remains a serious problem."
Carter acknowledged that "India has been attacked and is continuously threatened with attack from terrorists, even as we are, even as Pakistan and Afghanistan are."
"We have independent relationships with all three of those, and counterterrorism isn't the only thing we do with all three of those," he said. "But counterterrorism is an important thing that we do with all of them."
"And with respect to India, I'll just say that counterterrorism clearly is a key common interest," Carter said. "We work a lot together on that."
"And then we have a wide range of geopolitical, strategic and technology areas of cooperation as well," Carter said. "So it's a very wide-ranging relationship. In today's world, you can't leave out terrorism."
(with PTI inputs)