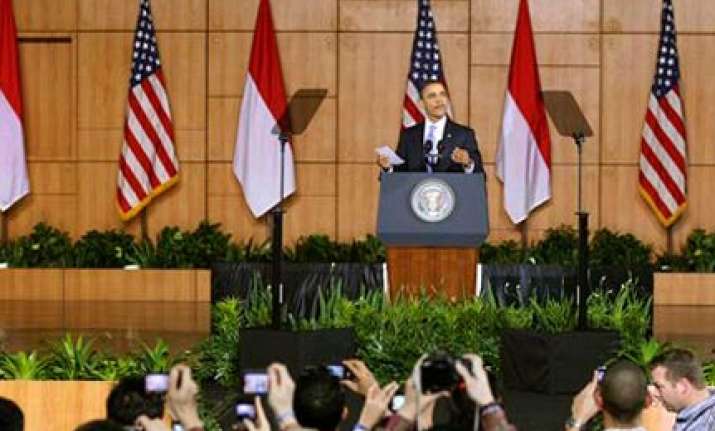 Seoul, Nov 10 (AP) Declaring that "Indonesia is part of me," US President Barack Obama issued a strikingly personal appeal to the Muslim world to join the West in an unrelenting battle to defeat al-Qaida and violent extremism.
After his speech in Jakarta, Obama flew to South Korea and a meeting of the Group of 20 major economic powers in Seoul, South Korea.
In Indonesia, the world's most populous Muslim nation, a place where he spent several years as a boy, Obama today acknowledged the fraying that remains in US-Islamic relations despite his best efforts at repair. He urged both sides to look beyond "suspicion and mistrust" to forge common ground against terrorism.
Obama praised Indonesia for progress in rooting out terrorists and combatting violent extremism, and he resurrected a theme he sounded last year during visits to Turkey and Egypt.
"I have made it clear that America is not and never will be at war with Islam ... Those who want to build must not cede ground to terrorists who seek to destroy," Obama said.
Returning to Indonesia for the first time since 1992, Obama beamed with obvious pride as he delivered what perhaps was the most deeply personal speech of his presidency, including many phrases and words in Indonesian.
"Let me begin with a simple statement: Indonesia is part of me," he said in the language, cheering the audience of more than 6,000 mostly young people at the University of Indonesia.