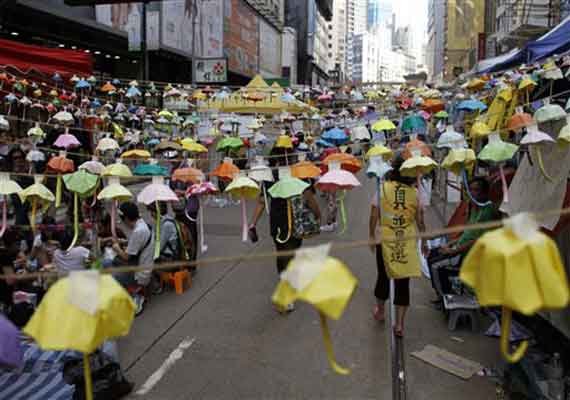 Hong Kong: Hong Kong student protest leaders are considering visiting Beijing while it hosts a major Asian summit next week to press their demands for greater democratic reforms.
Student leader Alex Chow said at a rally late Thursday that protest organizers would discuss the idea of trying to talk to Chinese officials during the Asia-Pacific Economic Cooperation forum that begins Nov. 5.
Chow said it's unclear whether protest leaders would even be allowed to make it past mainland Chinese border checkpoints.
"If we can cross the border then naturally we hope to have direct dialogue with authorities," Chow told reporters.
"But if we can't cross the border, then we'll know that Beijing has sent a message to Hong Kongers ... that they're completely ignoring Hong Kongers demands" to drop proposed curbs on the inaugural election of the city's leader, he said.
The student leaders are trying to maintain momentum for their movement, which is now in its second month. They government has not responded to a request earlier this week to arrange a meeting with senior Chinese officials.
Authorities in Beijing have been tightening up security ahead of next week's APEC summit. President Barack Obama and Japanese Prime Minister Shinzo Abe and other leaders from the group's 21 member economies will attend the meeting.
Protesters are in a standoff with the government over the Chinese government's requirement for a Beijing-friendly committee to screen candidates for the 2017 vote, blasting it as fake democracy. The protesters have been occupying major streets in three districts around Hong Kong for five weeks to press their demands.
Hong Kong's government appears to be trying to wait out the protesters and has not offered any concrete concessions.
Chow told the rally that Hong Kong officials had passed the buck to Beijing, "so we thought why not seek out Beijing directly" to drop the election curbs.