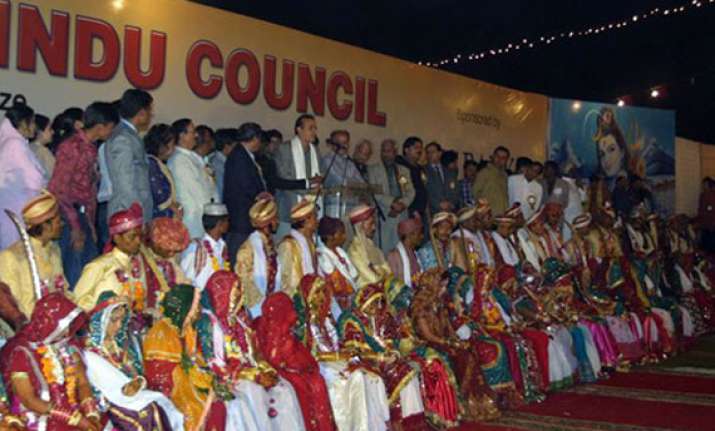 Karachi, Nov 13: Amid attacks on Hindus in Pakistan's Sindh province, hundreds of community members here have pledged their allegiance to the country.
 
The pledge came at a mass wedding ceremony organised by the Pakistan Hindu Council yesterday in this financial hub which was attended by hundreds of Hindus and Muslims.
 
The ceremony saw 80 couples exchange wedding vows in traditional Hindu rites as prominent social worker Sattar Edhi also gave his blessings to the couples.
 
"I think this ceremony is the best platform for us to make it clear that all Hindus living in this country are as patriotic and nationalistic as every other Pakistani of any religion. People should not question our allegiance to Pakistan," said Mukesh Kumar, a senior official of the Pakistan Hindu Council.

The same sentiments were expressed by many other Hindus at the ceremony with Prem, one of the grooms, insisting they also wanted to see Pakistan prosper as a nation.
 
The Hindu community in Pakistan's southern Sindh province has been up in arms over the killing of three Hindus including doctors in Chak town near Shikarpur on Eid day and the incident has even led to President Asif Ali Zardari ordering the government machinery to probe the incident and provide justice to the victims.