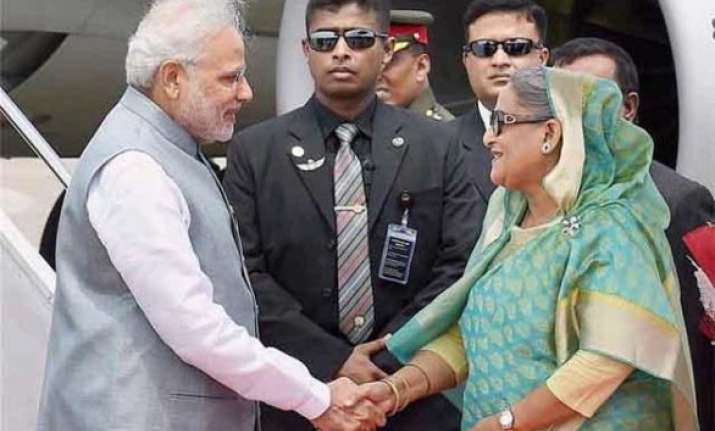 New Delhi/Dhaka: Bangladesh Premier Sheikh Hasina will arrive in New Delhi on a day-long visit tomorrow to attend the funeral of Suvra Mukherjee, the wife of President Pranab Mukherjee, during which she will also hold talks with Prime Minister Narendra Modi.
Hasina will drive from the Indira Gandhi International Airport in Delhi to the Rashtrapati Bhavan to convey her condolences to Pranab Mukherjee.
She will then go to the official residence of Mukherjee's son Abhijit Mukherjee, where the body will be kept to enable people to pay their last respects, and lay a wreath, according to an itinerary issued by the External Affairs Ministry this evening.
Suvra died this morning. She was 74.
The Bangladesh Prime Minister will hold talks with Modi at his official residence. This will be the second meeting between them since the last interaction in Dhaka when Modi had visited Bangladesh on June 6-7 during which the two countries signed 22 pacts to deepen cooperation besides ratifying the historic Land Boundary Agreement.
Hasina's Press Secretary Ihsanul Karim said in Dhaka the Bangladesh Prime Minister will be accompanied by Foreign Minister A H Mahmud Ali, her younger sister Sheikh Rehana and daughter Saima Wazed.
Hasina developed very close relations with Suvra and rest of the Mukherjee family during her life in exile in Delhi soon after the August 15, 1975 coup that saw the killing of Bangladesh's independence architect Sheikh Mujibur Rahman and most of his family members. Hasina and Rehana escaped the mayhem because they were abroad at that time.
India had provided asylum to Hasina and Rehana for nearly six years post-coup.
Suvra Mukherjee has her ancestral home at Bhadrabila village in western Bangladesh's Narail district which she had visited last in March 2013.
Bangladesh President Abdul Hamid mourned Suvra Mukherjee's death and prayed for eternal peace of the departed soul and conveyed his sympathy to his Indian counterpart and other members of the bereaved family.
The PMO also issued a separate condolence message in which Hasina paid rich tributes to Suvra Mukherjee recalling memories with her in the days of her distress.
Gloom descended on Bhandrabila village in Narail, Suvra Mukherejee's ancestral home with grief-stricken relatives gathering there, state-run BSS news agency reported.
Hasina called up Pranab Mukherjee to condole the death of his wife, Bangladesh High Commission said in New Delhi.
She also wrote a letter of condolence which is being delivered through diplomatic channels, it said.
Hasina is scheduled to leave for Dhaka at 3 PM.