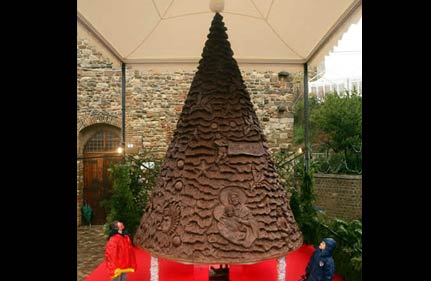 Paris, Nov 27: A famous French chocolatier has prepared a giant chocolate Christmas tree in his laboratory near Paris that will be used to raise funds for next week's 'Telethon', a television charity event to support research into neuromuscular diseases.
The ten-meter (about 32 feet)-high tree, towering inside chocolatier Patrick Roger's chocolate factory in Sceaux, in the suburbs of Paris, weighs four tons (8,000 pounds) and is a rare piece of 'architecture'.
"To achieve this kind of architecture - because this really is a piece of architecture - we used a sort of alveolus inside to make the chocolate solid enough, because there is very strong vertical pressure," Roger told the Associated Press on Friday.
The tree, which took Roger's team one month to craft, will be a highlight at France's Telethon, a nationwide charity event to support research into neuromuscular diseases. It will be broadcast on French television on December 3 and 4.
Participants will receive pieces of the tree in exchange for their donations.
Patrick Roger is one France's most famous chocolatiers.
He was named 'Meilleur Ouvrier de France Chocolatier' (best French artisan-chocolatier) in 2000, an award for professionals combining art and taste and proving to be worthy representatives of French gastronomy.
People working in Roger's busy chocolate laboratory in Sceaux are enthusiastic about their experience.
Many of them come from abroad.
"What I like about working here and staying in France is that I can work with such high quality chocolate," Japanese chocolatier Daisuke Yamanoushi told the Associated Press.
Katherine Bosch, a 29 year-old trainee from New York, US, said she decided to join Roger's team when she was a student at a French university and discovered French desserts and chocolates.
"I just found that they were of such high quality," she said.
"Not to discredit the US, but I just immediately fell in love with the pastries here. And that's why I decided to come back and study and do a stage here," she added.
Roger's laboratory also features a wide range of other chocolate sculptures, including small Santas, reindeers and other figurines. AP