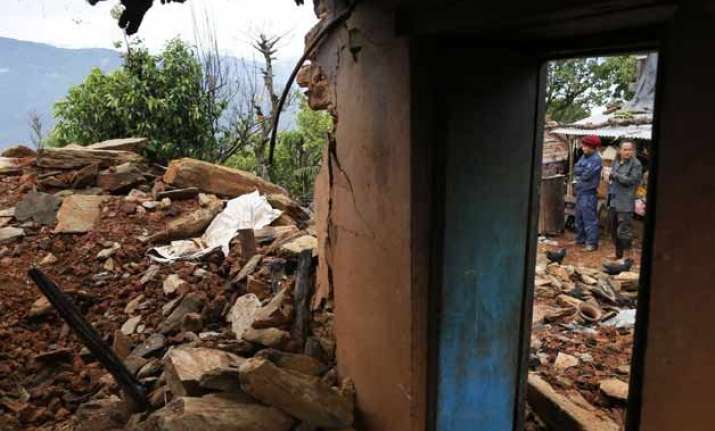 Kathmandu/New Delhi: The epicentre of the massive 7.9-magnitude earthquake that devastated Nepal on Saturday and has claimed 4,347 lives so far, Lamjung district suffered only four casualties, a top official said on Tuesday.
"Since the earthquake happened in the morning, many people were outside their homes. Four people have died so far and around 25 are injured," Lamjung Chief District Officer Shrawan Kumar Timilsina told IANS in New Delhi over phone.
"We have not suffered many casualties, but the physical destruction is very grave," said Timilsina.
He said over 3,000 houses were completely razed to the ground in this sparsely populated district surrounded by snow-capped Himalayas .
"As many as 3,243 houses in the district have been completely flattened," he said. Most of these houses were 'kuccha' and were made up of stones.
"Nearly 4,000 houses have cracks and are now unfit for stay," he added.
Timilsina feared severe destruction in the far-flung villages of the district, some five hours' drive from Nepal capital city Kathmandu .
The district with vast agricultural land has an estimated population of 1,67,000, according to the official.
Timilsina said almost 95 percent of the houses in at least five severely-affected villages had been destroyed.
After the strong earthquake and a series of consequent aftershocks, the residents are fearful of entering their homes and prefer to stay outdoors. But incessant rainfall has made their stay outdoors difficult.
Timilsina told IANS that there is a growing demand for food items from some villages, and though the officials are trying to help people with the aid they have received from the army, much more needs to be done.
"We are in shortage of tents. We need at least 4,000 tents immediately," he said.
He said authorities were trying their best to help people, but inclement weather has posed serious challenges as people were sleeping in the open after the earthquake.