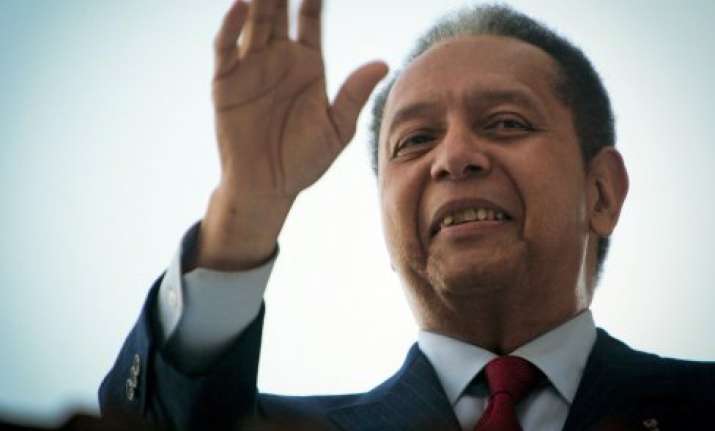 Port-au-Prince: Haitian former president Jean-Claude Duvalier, known as "Baby Doc", died on Saturday of a heart attack at his home in this capital, his attorney, Reynold Georges, said. He was 63.
Duvalier succeeded his father as "president for life" and governed the destitute Caribbean nation for more than 15 years until 1986, when he went into exile in France, not returning to his homeland until January 2011.
The former dictator was born in the Haitian capital July 3, 1951, and became president upon the April 1971 death of his father, François "Papa Doc" Duvalier.
He was accused of corruption and human rights violations during his rule and was the target of several assassination attempts. A failed attempt to overthrow him was made in 1982 by a group of Haitian exiles led by Bernard Sansaricq.
During his rule, Duvalier carried out some liberal reforms that were more theoretical than practical.
He enacted a new constitution and called legislative elections in 1984, although he barred the opposition Christian Democratic Party from participating, resulting in a comfortable victory for his CONAJEC party.
Earlier, in 1979, he introduced a new press law that prohibited any criticism of the president, his ministers or security officials.
He also formed a personal security force known as the Corps de Leopards (Leopards Corps) and maintained his father's Tonton Macoutes armed militia that was blamed for widespread killings of suspected political opponents.
Journalists and government opponents were deported. Around 100,000 people were forced to flee the country.
Amnesty International said in a 2011 report that the "systematic or widespread use of torture and enforced disappearance in Haiti between 1971 and 1986 constitute crimes against humanity".
In 1986, the internal conflict in Haiti worsened and on Feb 7, Duvalier left the country in a US military airplane. After several countries denied him political asylum, France agreed to take him in and he lived in exile in on the French Riviera.
He made a surprise return to Haiti Jan 16, 2011, and two days later testified in a case over alleged embezzlement during his rule. He was charged and prohibited from leaving the country but never jailed on the corruption charges or separate allegations of crimes against humanity.