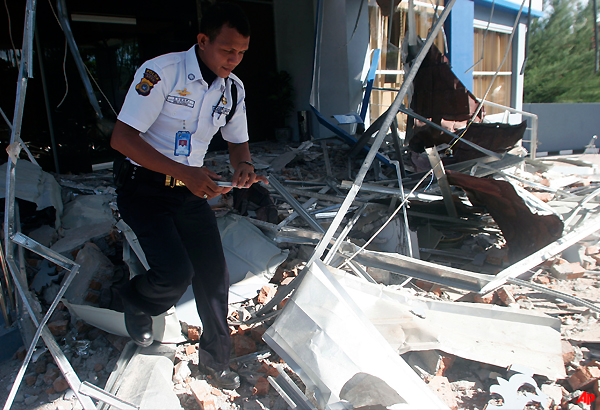 Banda Aceh (Indonesia), Apr 13: Five people died and at least seven were injured as massive earthquakes struck off Indonesia's Sumatra island, officials said today.
Officials said they believed at least two people died of heart attacks and three others died of shock in the quakes yesterday.

"Based on data collected on victims and damage, five people died, one person is critically injured and six others had minor injuries," National Mitigation Agency spokesman Sutopo Purwo Nugroho said.

An 8.6-magnitude quake struck 431 kilometres (268 miles) off the city of Banda Aceh late afternoon on Wednesday, and was followed by another undersea quake measured at 8.2, with aftershocks continuing through the night.

All of the casualties were in Aceh province, Nugroho said, with the critically injured victim a child who fell from a tree.

Communities in Aceh have now returned to daily life, Nugroho added, in stark contrast to the devastation caused by the massive 2004 Indian Ocean tsunami which killed 170,000 people in the province alone and wiped out entire towns.

Minimal damage was caused this time round because government regulations ensured buildings have better resistance to quakes, according to the United Nations Development Programme (UNDP), and people were better prepared.

"The buildings in Aceh are now stronger because the government has set certain standards that oblige contractors to ensure anti-earthquake aspects are put in place," UNDP national project coordinator for Aceh Fahmi Yunus said.