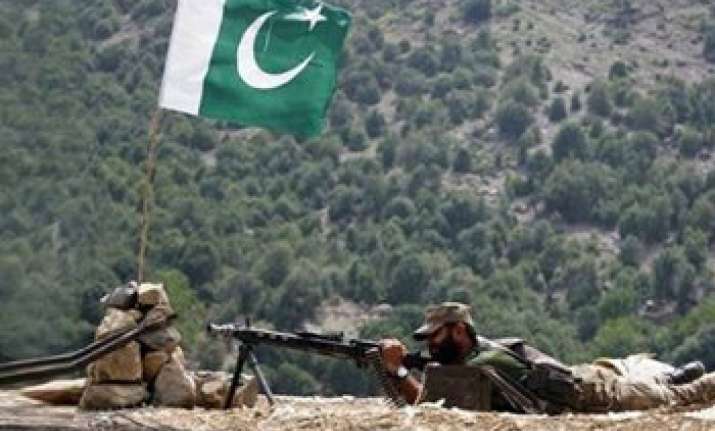 Islamabad: The continuing firing across the Pakistan, India border "comes at the cost of souring bilateral relations for years to come", said a Pakistani daily Friday.
An editorial in The Nation said that the two neighbours have "returned to their old habits; cross-border skirmishes".
"An event that would be a national emergency in other parts of the world is a casual occurrence which has ebbed and flowed since the ceasefire was signed in 2003," said the daily.
The editorial rued that this has "become far too common".
"The issue becomes clouded in notions of nationalistic pride when the blame game begins, and the violence is ignored, celebrated even."
"The question here should not be which side initiated the firing, but why both sides are adamant on returning fire tenfold; the shelling escalates, both defence ministers' bare fangs. What is to be gained from piling on the pressure? Why are both sides not holding back and painting the other the aggressor, as it happens in usual conflicts?"
Is it possible that this sabre rattling is aimed less at the enemy and more at audiences back home, asked the daily.
The editorial said that Indian Prime Minister Narendra Modi "rode a wave of rhetoric into office that promises a tough stance on Pakistan".
"During the build-up to the election the references to unanswered Pakistani ceasefire violations were abundant as well as the skirmishes themselves. An eye for an eye strengthens Modi's vote bank. With an election coming up in Jammu and Kashmir, perhaps instances which substantiate the BJP's claims are not such a bad thing for them at all."
For embattled Prime Minister Nawaz Sharif, the editorial said, "the audience is different; it's not the masses but the ever-present men in khaki".
"The premier's frayed relations with the military sprang, amongst other issues, from a disagreement over how to handle the Kashmir issue, with Nawaz's congenial advances towards a stoic Modi being criticised at home. The chest thumping at the borders lets the players know who's in-charge."
It went on to say that amidst these uncertainties, "the only thing that remains certain is the loss of more civilian lives".
"In a country where humans are abundant, a good sound bite is more precious than a farmer. In the end, even if both sides achieve their short term goals, it comes at the cost of souring bilateral relations for years to come," the daily added.