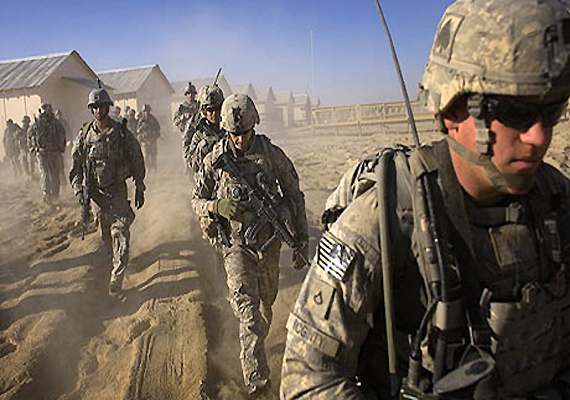 London, Mar 12: Fearing reprisals, US troops in Afghanistan have been placed on high alert following the killings of 16 Afghan civilians, mostly women and children, by a wayward American soldier, as the Afghan parliament demanded that the culprit be put on public trial.

The joint US-NATO command and the US embassy in Kabul has issued emergency warnings, alerting US and other foreign citizens to be careful, the BBC reported.

The embassy put an emergency statement on its website, saying the "the US Embassy in Kabul alerts US citizens in Afghanistan that as a result of a tragic shooting incident in Kandahar province involving a US service member, there is a risk of anti-American feelings and protests in coming days, especially in the eastern and southern provinces."

The officials have been warned to restrict their moments especially in Kandahar as Afghan politicians from Kandahar have expressed scepticism that the US soldier acted alone.

The lower house of Afghan parliament meeting in Kabul passed a resolution, saying "we demand and expect that the government of US will punish the culprits by putting them on public trial.

But US military has said that there is no indication that more than one solider carried out the attack.

The US alert to its citizens in Afghanistan came after President Barack Obama telephoned his Afghan counterpart Hamid Karzai to express condolences.

BBC said but Karzai has said that the massacre is "unforgivable". The Taliban has issued a threat vowing to avenge the deaths of civilians.

BBC said the soldier, believed to be a staff sergeant, is reported to have walked off his base at around 03:00 Sunday (22:30 GMT Saturday).

In the villages of Alkozai and Najeeban, about 500m (1,640 feet) from the base, he reportedly broke into three homes.

At one house in Najeeban, 11 people were found shot dead, and some of their bodies set alight. At least three of the child victims are reported to have been killed by a single shot to the head.

The US military said reports indicated that the soldier returned to his base after the shootings and turned himself in. His motives are unclear - there is speculation that he might have been drunk or suffered a mental breakdown. But officers are worried that the attack might have been planned.

The solder is under detention in Kandahar and BBC said there is widespread risk of anti-American feelings and protests in coming days.

The BBC said this is the first time Afghan civilians have been targeted by foreign soldiers in this way. However, one US soldier was convicted last year on three counts of premeditated murder after leading a rogue "kill team" in Afghanistan.