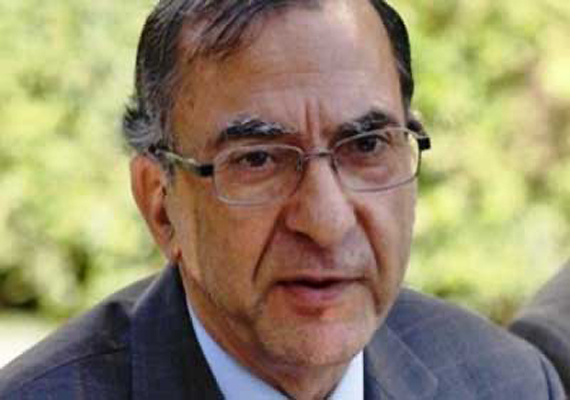 Virginia, Mar 31: Kashmiri separatist Ghulam Nabi Fai was on Friday sentenced to two years of imprisonment by a court here for "conspiracy to defraud the US" by concealing the transfer of at least USD 3.5 million from Pakistan's ISI to fund his illegal lobbying efforts on Kashmir.
62-year-old Fai's 24 months of jail term will be followed by three years of supervised release.
The judge also asked Fai not to maintain any contact with the officials and agents of the Government of Pakistan and the Pakistani spy agency - ISI.
"You participated in a conspiracy to defraud the US and completely deceive the IRS (Internal Revenue Service). 
"You knew Pakistan and the ISI was paying you in a manner because your actions would be consistent with theirs and you would represent their voice and you were willing to do so," Judge Liam O'Grady of a court in Alexandria, Virginia, a suburb of Washington DC, said before announcing the verdict. 
The judge also said, "He (Fai) clearly knew, he is being paid...Pakistan has lost wars with India on Kashmir and so Pakistan is looking for other means to achieve its objectives."
Fai was arrested by the FBI on July 19 last year and had subsequently pleaded guilty before the court to the charges of being a paid agent of the ISI.
Fai, who was represented by Nina Ginsberg in the court, also requested the court to allow him to surrender after graduation of his daughter on June 25, a plea which was granted.
After listening from both sides and also for a few minutes from Fai himself, the judge said: "sentencing is necessary" even though he has done "moving things" on behalf of people of Kashmir.
"Mr Fai spent 20 years operating the Kashmiri American Council as a front for Pakistani intelligence," said US Attorney Neil MacBride after the sentencing.
The US attorney added, "He (Fai) lied to the Justice Department, the IRS and many political leaders throughout the United States as he pushed the ISI's propaganda on Kashmir." "Syed Fai is today being held accountable for his role in a decades-long scheme to conceal the fact that the government of Pakistan was secretly funding his efforts to influence US policy on Kashmir," said Assistant Attorney General Lisa Monaco.
"Today's sentence sends a strong message that using the tax-exempt status of charitable entities to promote or conceal federal crimes carries heavy consequences," said Acting Principal Deputy Assistant Attorney General John DiCiccio. 
"Mr Fai had a duty to inform the US government of the finances which he received from Pakistan to fund lobbying efforts," said FBI Assistant Director in Charge James McJunkin.
Concealed foreign affiliations can be a "significant threat to our democracy, and those who engage in hiding these associations will be brought to justice," he said. 
Meanwhile, the judge told Fai that he can continue to work for the cause of Kashmiri people from the prison—like write articles and do conference calls.  About 40 people were inside the court room—mostly his friends and family members. The government attorney was Gordon D Kromberg.
Fai said that he did not tow the Pakistani line and he always espoused the cause of independent Kashmir—while Pakistan wants to make Kashmir part of it. 
"Words possibly can't define the damage that I have done to my beautiful family and friends in the US and the damage that I have done to the Kashmir cause," Fai told the court. 
"I never intended to harm anybody in the world, never intended to harm the US. My sole motivation was to work for the people of Kashmir and their right of self determination," he added.
Fai then went into propaganda mode and said: "I know the road to freedom is long but there is no short cut."
Fai said he has written 25 articles proposing that the best solution to the Kashmir problem was independence of Kashmir.
Judge commented: "I do not doubt your love for people of Kashmir" and then he went on to pronounce the judgement. 
Earlier, the US Justice Department had recommended that Fai be sentenced for 48 months of imprisonment.  He faced a maximum potential sentence of five years in prison for the conspiracy count and a maximum three years in prison for the tax violation.
Fai's attorney Nina Ginsberg said that in past 20 years, the federal US agencies intercepted some 350,000 emails and 90,000 telephone calls of Fai.
She also unsuccessfully argued that Fai was also in contact with Indian leaders and officials and some of his views were consistent with the views of the Indian government. 
"Indian Government sought him out on a regular basis some kind of peaceful resolution of the Kashmir issue," she said. 
Referring to the more than 50 letters of support in favour of Fai that were submitted to the judge early this week, Ginsberg said many of them are eminent people from India.  One of them, she said, is the great grand son of Mahatma Gandhi.
However, Kromberg added, "For long the Indian Government knew that Fai was an agent of Pakistan and the ISI.  "KAC was a fraud, every thing it did in 20 years. This has nothing to do with Kashmir cause."
Kromberg in his final argument said that Kashmiri American Council (KAC) was one of the three ISI funded outfit—the other two being in London and Brussels. 
The Judge said, "You (Fai) were willing to defraud the IRS, willing to be allowed being given money by the Straw Donors to fund the Kashmir American Council—to cover up the source of your funding and to engage with the Pakistani intelligence agency."