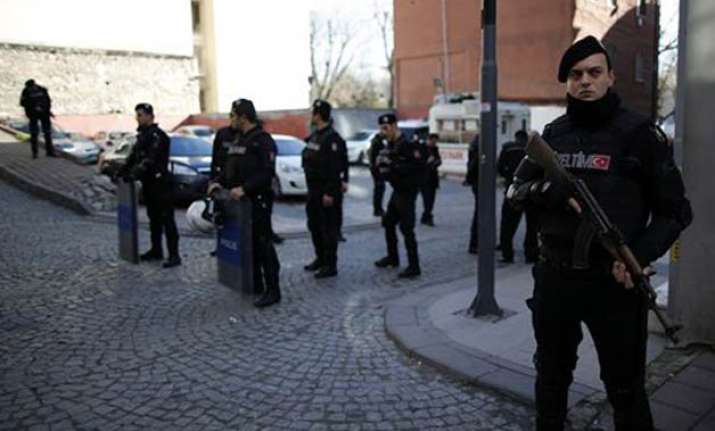 Istanbul: At least 10 people have been killed and another 15 injured in an explosion in a historic district of Istanbul popular with tourists, the Istanbul Governor's office said today.
At least six Germans were among the wounded, a news agency reported.
The cause of the explosion in the Sultanahmet district was being investigated, but state-run TRT television reported it was likely caused by a suicide bomber. A government official said the explosion was believed to be "terror-linked." He did not provide further details.
Omer Celik, the spokesman for Prime Minister Ahmet Davutoglu's ruling party issued a statement condemning what he called "a heinous attack."
The explosion, which could be heard from several neighborhoods, was at a park that is home to a landmark obelisk, some 25 meters (yards) from the historic Blue Mosque.
Turkey's Dogan news agency reported that at least six Germans, one Norwegian and one Peruvian were among the wounded, and Seoul's Foreign Ministry told reporters via text message that one South Korean had a finger injury. The Norwegian Foreign Ministry told Norway's news agency NTB that the Norwegian tourist was slightly injured and was being treated in a local hospital.
It was not immediately known if any foreigners were among the dead.
Germany warned its citizens to avoid crowds outside tourist attractions in Istanbul, saying on a government website that further violent clashes and "terrorist attacks" are expected across Turkey. It also urged travellers to stay away from demonstrations and gatherings, particularly in large cities.
Police sealed the area, barring people from approaching in case of a second explosion, and a police helicopter hovered overhead.
The Sultanahmet neighborhood is Istanbul's main sightseeing area and includes the Topkapi Palace and the Haghia Sophia museum.
Turkish Prime Minister Ahmet Davutoglu immediately convened a security meeting with the country's interior minister and other officials.
As with previous attacks, authorities imposed a news blackout, barring media from showing images of the dead or injured or reporting any details of the investigation.
Turkey suffered two major bombing attacks last year, both blamed on the Islamic State group.
(With AP inputs)