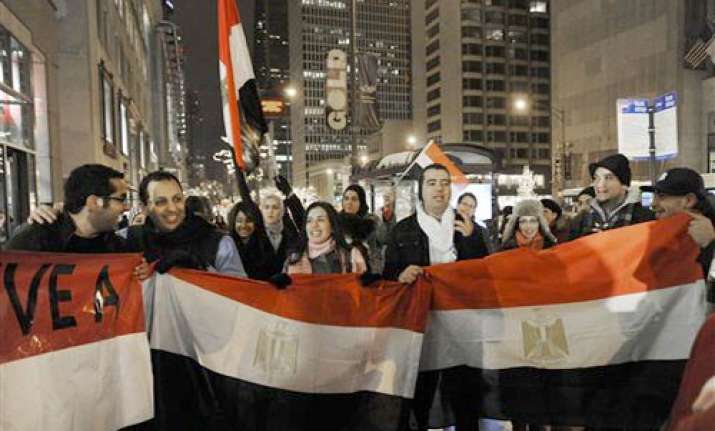 Cairo, Feb 12  : Egypt today erupted into boisterous celebrations with people pouring into the streets--dancing, cheering and congratulating each other as they rejoiced the long-awaited ouster of President Hosni Mubarak.Moments after the announcement of Mubarak's resignation, a wave of joy swept across the country, with cars lining up and honking and people waiving the Egyptian flag.
In Cairo, people flooded the city's central Tahrir Square, the epicentre of the massive 18-day protest against Mubarak's regime, clapping and singing the national anthem as fireworks shot into the air over the crowd.
Similar scenes were witnessed outside the main presidential palace where euphoric protesters shouted "Egypt is Free" and "God is greatest!" as they hugged, kissed and
danced in celebration.
"We are very happy today that we were able to overcome the dictator Hosni Mubarak. The people have overthrown the regime," said a protester, who fell to the ground, overcome by emotion.
In no mood to stop rejoicing, some clambered on top of army tanks, holding the national flag, while others gathered to have their pictures clicked alongside beaming soldiers.Ending the 30-year-old despotic regime in the most populous Arab nation, Mubarak finally resigned yesterday and delegated power to the military.
The president handed over the administrative affairs to the Supreme Military Council. Technically, this means that the constitution has been frozen, the Upper and Lower Houses of Parliament dissolved and a council for transition of power has to be formed. These were the demands the protesters have been pursuing since the first day.The army has also vowed it would lift the three-decade old emergency law once the protesters evacuate Tahrir Square.PTI