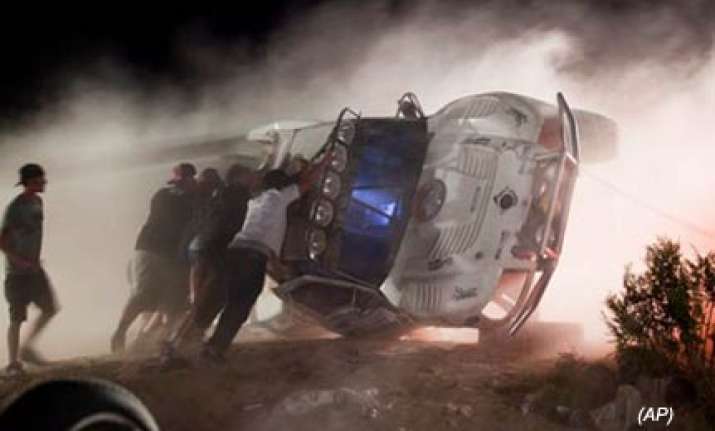 An off-road truck ploughed into a crowd moments after sailing off a jump at a race in Southern California on Saturday night, killing eight people and leaving 12 injured, authorities and witnesses said.  The accident happened shortly before 8 p.m. (0300 GMT Sunday), just after the start of the California 200 race, said San Bernardino County sheriff's spokeswoman Cindy Bachman. 
Bachman said eight people died and 12 were injured, several of them seriously. Seven ambulances and 10 emergency aircraft responded to the scene. Most of the injured were airlifted from the area to hospitals. 
Officials said the driver wasn't hurt but had to flee the scene to escape angry spectators.  The 200-mile (320-kilometre) race is part of a series held in Soggy Dry Lake Bed near the city of Lucerne Valley in the Mojave Desert, 100 miles (160 kilometres) northeast of Los Angeles.  David Conklin, a photographer covering the event for off-road magazines, said the Prerunner truck was among the first 20 off the line in the race, and had just gone over a jump known as "the rockpile" about two miles (three kilometres) into the race.  The truck car eventually came to a rest upside down with its oversized wheels pointing toward the sky.
Tens of thousands of people attend the California 200, in which a variety of off-road vehicles take jumps and other obstacles and reach speeds up to 100 miles per hour (160-kilometre per hour) on the 50-mile (80-kilometre) off-road course.   The race had been scheduled to last through the night.  The crowd was standing within 10 feet (3 metres) of the track with no guard rails separating them from the speeding vehicles.  "They allow us to stand wherever we want on the tracks. So we, everyone gets as close as they can," said a man at the scene.  A California Highway Patrol said that the driver, who wasn't named, was forced to run from the scene when the crowd grew unruly and some began throwing rocks at him.  It was not clear why he lost control of the truck. AP