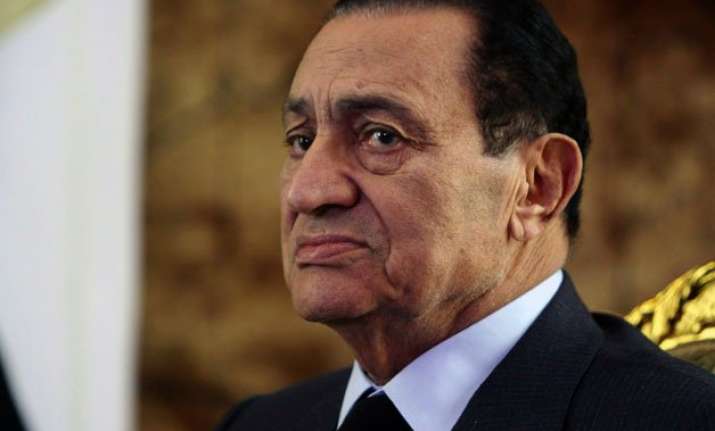 Cairo: Ousted Egyptian strongman Hosni Mubarak's last remaining conviction was today overturned by a court that ordered a retrial in a graft case which could pave the way for his possible release from jail in a dramatic reversal of fortune.  
Mubarak, 86, was jailed for three years in May last year after being found guilty of fraudulently billing the government USD 14 million of personal expenses. But the Court of Cassation found legal procedures were not followed properly.  
This is the last remaining case keeping Mubarak behind bars as charges of conspiring in the killing of hundreds of protesters during the uprising that ended his nearly three decades-long rule in 2011 were dropped in November last year.  His two sons—Alaa, 53, and Gamal, 51 -- were given four-year jail terms in the same graft case for which he got three years in prison. Collectively, they were fined 125 million Egyptian pounds and are required to repay 21 million Egyptian pounds.
The former president and his sons were also cleared of two separate corruption charges.
The Court of Cassation, Egypt's top appeals court, announced that it had overturned the three men's convictions for embezzlement and ordered a retrial this morning.  The Court of Cassation did not specify whether Mubarak was a free man following its judgement.
At the original trial, prosecutors alleged that Mubarak and his sons had billed the government for more than 126 million Egyptian pounds of personal expenses—including utility bills, interior design, landscaping, furniture and appliances—for several private homes and a public palace that was fraudulently transferred to their ownership.  
Other expenses included renovating a villa, and building a new palace wing to accommodate one of Mubarak's granddaughters and a mausoleum for a grandson who died.
Evidence submitted by the prosecutors included more than a thousand original and forged receipts.  When a new court is assigned for the retrial, the judges could order Mubarak to be freed. Egyptian media reports have stated that he had been expected to be released from the military hospital at Maadi on January 17 even if the embezzlement conviction was upheld because he has been in custody since April 2011.
The judge while acquitting Mubarak on charges of conspiring in the killing of protesters during the uprising that ended his rule said he should never be tried for these charges. The ruling was followed by massive angry protests in Cairo in which two people were killed.
In 2012, the former autocrat was sentenced to 25 years in jail but the verdict was successfully appealed in January, 2013 as the presiding judge ruled that there was not enough evidence presented by the prosecution.