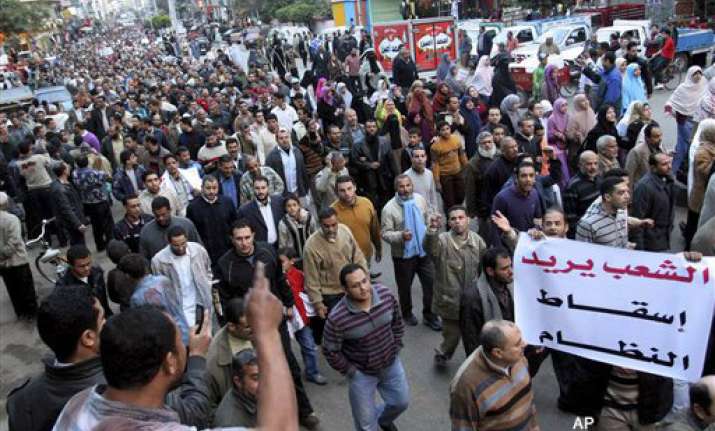 Cairo, Feb 7 : Protesters at Tahrir square continued their sit in on Monday morning, calling on the Egyptian ruler Hosni Mubarak to step down and vowing not to give up their demonstrations until he does.
Since 25 January protestors have been paralysing government institutions which centre on the square, and while the Egyptian army has tried to open roads into the area, protesters continue to block it with make-shift barricades.
At the same time, there have been signs that the paralysis gripping the country since the crisis began, is easing.
On Sunday, the first day of Egypt's working week, some schools reopened for the first time in more than seven days, and so did banks - though for only three hours, with long lines outside.
On Monday morning, traffic could be observed moving around Tahrir square, although some streets in the area have tanks scattered along them, restricting the movement of vehicles.Tanks also continue to guard government buildings, embassies and other important institutions.
Since protests began, the 82-year-old Mubarak has pledged not to seek another term in elections to be held in September.
Egyptians desperate for cash lined up at newly reopened banks and Cairo's infamous traffic jams reappeared as the capital struggled to regain a sense of normalcy after nearly two weeks of unrest.
But hulking battle tanks on the streets and nervous citizen watch groups manning barricades at night were vivid reminders that the crisis was far from over, with thousands of protesters still demanding the ouster of the president.
"It's much better than yesterday or the day before, ordinary people are back out walking around and look, we even have a traffic jam," Ahmed Mohammed, 65, the owner of a men's clothing store on Arab League St., a major commercial thoroughfare in the upscale commercial district of Mohandiseen, said on Sunday.
Cairo, a city of 18 million people, slowed to a near standstill over a week ago after widespread looting and street battles broke out in a near-total breakdown of security amid mass protests demanding the ouster of President Hosni Mubarak and police abandoned their posts.
Businesses closed and traffic was largely absent as residents holed up at home and faced a curfew that at one point started at 3 p.m., choking off a city once renowned for never sleeping. The curfew start has since been relaxed to 7 p.m.
Most stores were open Sunday for the first time in days, although some were boarded up with signs saying they were "closed due to looting." Across the 12-lane divided road from Mohammed's store were the burnt-out remains of a police station and a duty free shop.
Traffic also had returned to its normal sluggish rush hour flow in many parts of the city, albeit with a dearth of traffic police.
"We want reform to continue but with a return to normal life," added Ahmed, echoing the sentiment of many across a city that still wants change, while desperately yearning for the end to the unrest.
Many Egyptians have been unable to access their bank accounts and ATMs rapidly emptied of cash or were attacked by looters. Employers said they couldn't pay end of the month salaries and food prices soared.
The government reopened a limited number of banks for three hours on Sunday, sparking a desperate rush for cash and long lines at the financial institutions.
"There's a surreal feeling to all of this -- almost like time stood still and we were trapped in a nightmare," Zakariya el-Fattah, a 29-year-old marketing manager waiting to withdraw money from a bank in the upscale Zamalek district.
The Central Bank dispatched a total of 5 billion pounds ($854 million) to banks across the country, flying in the cash on military transport planes, to make sure there would be enough to go around.
The bank's governor, Farouk Okdah, said customers were allowed withdraw up to 50,000 pounds (about $8,500) per day. While this may have allayed immediate concerns, others remained about the broader impact the unrest would have on the economy and Egypt's continued appeal for international investors.
Okdah was quoted by the official Middle East News Agency as saying that the unrest had cost the country's tourism sector $1.5 billion -- $500 million more than an earlier estimate by Egypt's new vice president, Omar Suleiman.
The Egyptian stock market will remain closed until at least Wednesday, with an announcement about its reopening to be issued 48 hours in advance. Officials said the exchange would clarify on Monday what changes could take place, including a shorter session and a cap on any steep drops after the 17 percent plunge that prompted its closing on Jan. 26, a day after the protests began.
Businessman Ayman Abdel-Baqi said most people were still uneasy about the situation and feared a return of the chaos that left stores across the city gutted.
"It's not normal yet, merchants are afraid to stock up their stores with goods. They're keeping them in the warehouse because the looters might return. There is no confidence yet that the situation is stable," he said from his print shop on the busy street leading to the Pyramids, Cairo's most famous tourist attraction.
Night clubs and cabarets that line the area -- known for its racy night life -- were torched by looters last week.
In the rest of the city, the normally vibrant night life has also been snuffed out, though by the curfew, rather than looters.
Cairo's coffeeshops and restaurants are usually open and the downtown area packed until the early hours of the morning, with families eyeing brightly lit store window displays.
Now, the only people in the streets after dark are nervous neighborhood watch committees, fingering makeshift weapons as they demand identification from passing motorists and pedestrians.
"The world is slowly returning to normal and I have confidence in the situation," said Hatem Mohammed, a storeowner in the poorer neighborhood of Manial where very little looting occurred.
"But we will continue to man the checkpoints at night since the police have yet to return completely," he added, pulling a menacing Taser out of his leather jacket and brandishing it.While originally sympathetic to the demands of the protesters, Mohammed and his neighbors are growing impatient.
"They keep raising their demands, which just aren't reasonable anymore," said fellow storeowner Wagdan Taher, who said he thinks Egypt should let Mubarak finish out his term and make way for new elections in September instead of insisting on his immediate removal. "Why do they want chaos?"Abdel-Baqi, the printshop owner, agrees that true normalcy cannot return to the Egyptian capital until the protesters leave the square.
"Confidence will return when the Tahrir Square empties and the protesters demands are met, but they don't trust the system and I don't blame them. I don't trust it either. The government promises things but then never follows through," he said. AP