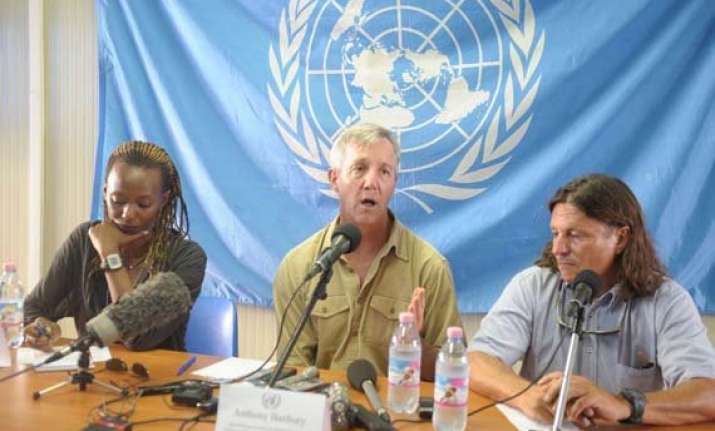 United Nations: The Ebola outbreak is "winning the race" against attempts to contain it, chief of the UN mission working to stop the deadly virus has warned as he asked the international community to help expand on-the-ground efforts across the affected nations in West Africa.
In his briefing, head of the UN Mission for Ebola Emergency Response (UNMEER) Anthony Banbury told the 15-nation UN Security Council that he is "deeply worried" that the steps implemented by the international community are "not nearly enough" to halt the advance of the fatal disease.  
"Ebola got a head start on us," he said.
"It is far ahead of us, it is running faster than us, and it is winning the race. If Ebola wins, we the peoples of the United Nations lose so very much," he said.  "We either stop Ebola now or we face an entirely unprecedented situation for which we do not have a plan," Banbury told the Council yesterday via video link from the operation's headquarters in Ghana.
Banbury recalled the World Health Organisation's (WHO) recommendation that, within 60 days of October 1, 70 per cent of all those infected must be in the hospital and 70 per cent of the victims safely buried, if the outbreak were to be successfully arrested.
Otherwise, he warned, the Ebola numbers risked rising "dramatically" and overwhelming the overall response if the December 1 deadline is not met.
"This is what we are fighting for now: we are fighting to prevent unavoidable deaths. We are fighting for people who are alive and healthy today, but will become infected and die if we do not put in place the necessary emergency response."
In its most recent situation report on the disease, WHO, which is leading the wider UN response, reported 8,376 cases and 4,024 deaths from Ebola based on information provided by the Ministries of Health of Guinea, Liberia, and Sierra Leone.  The agency notes that the upward epidemic trend continues in Sierra Leone and also in Liberia.
By contrast, the situation in Guinea appears to be more stable but a pattern of transmission is still of a very grave concern.  "With every day that passes, the number of sick people increases," Banbury added.
"Time is our biggest enemy. We must use every minute of every day to our advantage and that is what UNMEER is doing." In particular, Banbury called for an increase in the number of diagnostic laboratories, transport support and funding to help with operation logistics which would help aid the UN response to a crisis so vast in scope and magnitude.